As a parent, I'm well aware that my kids love my iPad just as much as I do. When I'm reviewing apps for Macworld, my daughters beg for their own turn with the iPad while I attempt to convince them it's better if I keep using it and thus putting food on the table. Unsurprisingly, both girls are eager to help when I'm reviewing apps for kids. This time, we looked at a trio of alphabet-focused educational apps.
The first was Intro to Letters, a $5 app from Montessorium. The app's design is lovely, with beautiful letters against beautiful backgrounds. Coupled with the app's pleasant female narrator, the overall experience of the app is likable. Worth noting, though, is that unlike the other two alphabet apps I tested, Intro to Letters really focuses on the educational side of things. It's not a game, and there are no cute characters; this is straight-up teaching.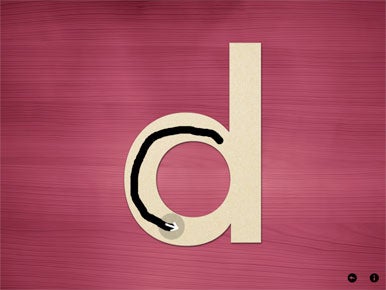 The app—the only one in this article that runs on the iPhone and iPod touch as well as the iPad—features multiple modes. In one, it presents lowercase letters one by one, showing you the proper way to write them as the letter's name and sound are voiced. Then you get the chance to trace the letter, and the app enforces accuracy: you must start at the right point, and trace in the proper direction. After individual letters, you can practice tracing and pronouncing letter pairs. Another mode focuses on capital and lowercase letter pairs, and still another lets you trace the capitals. A final mode pronounces letter names or sounds for you when you tap, and lets you record yourself saying them, so that you can compare your pronunciation.
Intro to Letters is really well implemented, and helps my 4-year-old as she's learning to write her letters. But it's dryer than the other iPad apps, and she rarely wants to "play" it very long.
She has more fun with the aptly-named Alphabet Fun, a $3 app from developer John Cotant. The app lets kids navigate among letters, numbers, and colors. In letter mode, you can tap on any letter in the alphabet for a screen featuring a colorful drawing of an animal whose name starts with that letter. On that screen, you can trace the letter (in both uppercase and lowercase), trace a pair of words (the animal's name and one other appropriate word), and practice freeform writing, too. By tapping a rainbow button, you can choose from a variety of virtual crayons and colored pencils.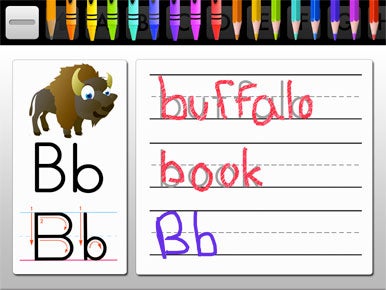 In number mode, the app again employs colorful animal drawings, and lets you trace both the numeral and the spelled out number. And in color mode, you see still more colorful animal drawings, with options to trace the color's name and practice writing it yourself.
Mercifully, for parents with more than one child, Alphabet Fun's drawing mode supports multiple fingers at once. Since all the writing and tracing is freeform, my 2-year-old enjoys this app almost as much as her big sister; while she's too young to trace the letters with much accuracy, she has a great time scribbling all over the screen. By the same token, of course, the app's looser structure means it's a bit less truly educational than Intro to Letters.
ABC – Letters, Numbers, Shapes and Colors with Mathaliens HD by CFC is a $2 game, and is far and away the most fun of these three apps. The game offers two unique play modes, each of which offers four minigames covering letters, numbers, colors, and shapes.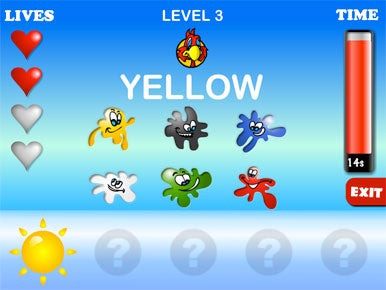 Like Alphabet Fun, ABC is a game that my kids can play together. The 2-year-old needs some coaching, but she still enjoys herself. A pleasant spoken voice tells you to tap the right thing—the letter "Q," the color green—and you must find it amongst all the other letters or colors. You can toggle between easy and hard modes (hard mode uses more colors, or two-digit numbers, for example).
The kids had a lot of fun with the game. Their father, on the other hand, went crazy. That's because ABC suffers from a fatal flaw—its voiceover artist. She pronounces some words as if speaking to a drunken foreigner, with an actual pause between the syllables of "circle." She makes "blue" a two syllable word, and refers to the letter "dub-a-you." After just a short time playing the game, my kids started trying to speak like her.
That's when I deleted it.
It's certainly fun, and probably even a hair educational, but the over-enunciated diction seems entirely out of place.
[ Lex Friedman is a frequent contributor to Macworld.]