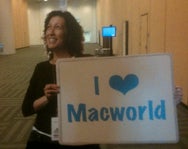 Are you attending Macworld Expo this year? Do you have a camera? Do you like to share? Fantastic!
Every January, Macworld editors scour the show floor to get hands-on time with new products, attend panels, take in presentations, and report back on what's going on. But we only make up a tiny sliver of the attendees who are actually at the conference, so this year we'd like to see Expo from your point-of-view.
If you're in San Francisco for Macworld 2011, pick up your point-and-shoot, DSLR, or iPhone and take photographs of your favorite new products or lively panel discussions. Get candid shots of roving Mac personalities and rollicking after-parties. Artsy Hipstamatic pics of the Moscone Center? Sure, we like those too.
Once you've taken some good shots, start sharing them with other Macworld readers on Flickr. Just join our Macworld Expo 2011 Flickr pool and add your images (and videos) to the gallery. Be sure to add a caption describing your image.
On Facebook, but not Flickr? We'll upload some of our own photos to the Expo album on our Macworld Facebook page.
If you can't be at Macworld Expo in person, don't worry, it's easy to keep up with all the action right here at Macworld.com. Tune into our live video feed of the mainstage, follow the updates on our @Macworld Twitter feed, or check this page for an up-to-the-minute list of every Macworld Expo 2011 article we post.
Macworld's Expo 2011 Coverage:
Macworld's homepage will have a livestream from the Macworld Stage.
On your iPhone, download the the Ustream video player and search for live events: Macworld Stage at Macworld Expo.
All Expo Articles