Editor's Note: The following review is adapted from Five Star Apps: The Best iPhone and iPad Apps for Work and Play by Glenn Fleishman. (2010, Pearson Education and Peachpit Press).
Fascinating patterns emerge from simple actions. That's the key to understanding (and loving) minimalist music from artists like Steven Reich, and the key to falling in love with Soundrop, a universal app for the iPhone, iPod touch, and iPad from Develoe.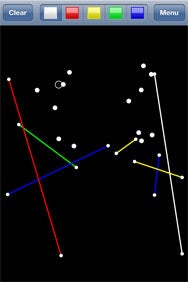 Soundrop has no goal. Rather, a ball drops, and you draw lines. The lines are chords; the length affects the tone produced when the line is hit. Longer lines produce deeper notes.
The balls bounce off the lines with some semblance of physics (with very low gravity) to produce melodies controlled by changing the angle and length of lines. You can produce fast-moving cacophonies, or slow, ponderous dirges.
The free version lets you explore simple notes. A $2 in-app upgrade adds four elements: multiple instruments, which you assign to different colors used to draw lines; physics modifiers to change gravity, friction, and bounciness; the ability to drop multiple balls at once; and the option to save a "game," so you can restore your melody.
While Soundrop doesn't have a goal and there is no scoring, you strive with the app to make interesting music instead of noise—which may be the purpose of life itself.
[Glenn Fleishman is a frequent contributor to Macworld.]