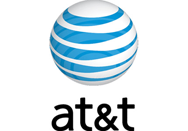 AT&T reported revenue of $31.4 billion for the fourth quarter of 2010, up 2.1 percent from a year earlier, with the company reporting a record gain in mobile customer additions.
Net income was down significantly, however, from $2.8 billion to $1.2 billion, due to one-time expenses.
Excluding one-time items, operating income was $5.6 billion, compared to $5.1 billion in the fourth quarter of 2009. One-time items included pension accounting charges, severance costs and asset impairments.
Without the one-time items, earnings per share were 55 cents. Analysts polled by Thomson Reuters expected earnings of 54 cents.
Randall Stephenson, AT&T chairman and CEO, trumpeted the quarterly results as "strong." The company's mobile broadband growth "set the pace for the industry," he said in a statement. AT&T is well positioned to grow profits as the U.S. comes out of an economic downturn in 2011, he said during a press conference.
Stephenson also downplayed the impact of AT&T losing exclusive access to Apple's iPhone. The company has loyal customers and will "move aggressively" into Android-based smartphones to offset any negative impact from rival Verizon Communications getting the iPhone, he said.
But iPhone additions on AT&T's network will be difficult to predict, he added. "This is going to cause some volatility in the first part of the year," he said.
AT&T reported a net gain of 2.8 million mobile customers, the largest quarterly gain in the company's history. Continued smartphone adoption drove the gains, with 4.1 million activations of the iPhone during the quarter, the company said.
AT&T also added 442,000 iPad and Android-based tablets to its network during the fourth quarter of 2010.
Mobile service revenue increased 9.6 percent, to $13.8 billion, over the fourth quarter of 2010. Wireless data revenue, including messaging, Internet access and access to applications, increased $1.1 billion, or 27.4 percent, to $4.9 billion. Mobile revenue was higher than wireline revenue for the first time, said Richard Lindner, the company's chief financial officer.
"Mobile broadband continues to be a huge growth driver," he said during the press conference.
In AT&T's wireline division, revenue from residential customers was $5.3 billion for the fourth quarter, up 0.7 percent from the fourth quarter of 2009. AT&T added 246,000 subscribers for its U-verse broadband service, the best quarter of the year, the company said. The company now has nearly 3 million U-verse customers.
Total wireline revenues was $15.1 billion, down 3.2 percent from a year earlier.
AT&T reported a decline in consumer connections for the quarter, due to declines in traditional voice lines, and partially offset by increases in U-verse television and VoIP (voice over IP) connections. AT&T U-verse Voice connections increased by 186,000 in the quarter. Consumer connections at the end of the fourth quarter were 43.4 million, compared with 45.3 million at the end of the fourth quarter of 2009 and 43.7 million at the end of the third quarter of 2010.