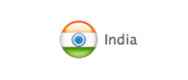 Apple will start offering the iPad in India on Friday, but its focus will be on sales through retailers, rather than bundling the device with service plans from mobile operators.
The company has partnered with Bharat Sanchar Nigam (BSNL), a state-owned mobile services provider to offer 3G services for the iPad, according to a source who declined to be named. But the arrangement is not exclusive.
BSNL had a head start in offering 3G services because the Indian government allotted it wireless spectrum ahead of a spectrum auction for the private sector.
Some Indian private operators have however started rolling out 3G services. As these operators start offering the service, customers will have the option to use their data services as well, said the source.
Apple's iPhone, in contrast, requires users to subscribe to one of two mobile operators: Vodafone Essar or Bharti Airtel.
Apple is likely to disclose iPad pricing on Friday. An entry-level iPad with Wi-Fi and a 16GB flash drive is likely to cost about 29,000 rupees (US$628), according to the source.
Apple said earlier this month that it had sold 7.33 million iPads worldwide in the quarter ended Dec. 25.
Demand for tablets in India is picking up, though it is still primarily oriented toward media consumption and content browsing, said Anshul Gupta, principal research analyst at Gartner.
The iPad is however not likely to be a runway success in a price-sensitive market like India, as it may be seen as a premium product, Gupta said. The iPhone hasn't sold in large numbers in India, for one because it is priced very high, he added.
Some users are considering buying tablets as their only computer. "I need one device, one set of applications for business or consumer purposes, because it is all browser based and networks are powerful and ubiquitous," said K. Purushottam, a business consultant in Bangalore who is considering buying a tablet because it is easier to use and take around.