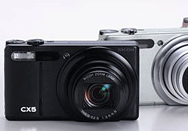 Ricoh has just announced the launch of its new CX5 compact camera, which replaces the CX4. The CX5 has a 10-megapixel CMOS sensor, a 10.7X zoom lens with a range of 28mm to 300mm and it includes new scene modes as well as a new 'hybrid' autofocus system. The new autofocus system attempts to make focusing operations much quicker throughout the entire zoom range of the lens. The new, quicker focusing system can also work in conjunction with the motion tracking focus that was introduced in the CX4.
The CX5 boasts new Super-Resolution (SR) technology, which is said to analyse the details of a picture and allow the photographer to adjust the sharpness of an image. Ricoh claims that the new technology also allows telephoto shooting to be extended to 600mm (21.4x optical zoom equivalent). This is separate to the camera's digital zoom capability, which can take the camera up to a massive 2880mm.
The new scene modes in the CX5 include Food, Fireworks and Golf Swing, which uses the CX5's high-speed shooting mode to take up to 13 continuous shots of a golf swing. Using a grid, the swing can then be analysed to that you can see what you're doing wrong.
Another new feature of the CX5 is its support of EyeFi, an SD card with built-in Wi-Fi. This should make it easier for users to share their photos online quicker while they are out and about.
The CX5 also has a 3-inch, 920K dot screen, Creative Shooting modes such as Miniaturize, Soft Focus and High-Contrast Black and White) and an Advanced Macro shooting mode that can take photos from as close as 1cm to the subject.