Software maker Recosoft will expand its family of conversion tools with the release of ID2Office. The application, scheduled to ship later this spring, converts InDesign files into Microsoft Office file formats, preserving the original file's layout.
Recosoft unveiled ID2Office at Macworld Expo on Thursday.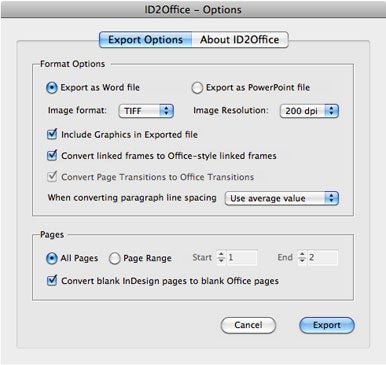 ID2Office works as a plug-in for the CS4 and CS5 versions of InDesign, Adobe's page layout tool. It will convert the text, associated fonts and styles, paragraph structure, tables, graphics, and other object and document properties to their matching object and file properties in Microsoft Word and PowerPoint. Because ID2Office promises seamless integration with Adobe InDesign, that eliminates the need to recreate the contents of InDesign files within Microsoft's word processing and presentation programs.
ID2Office works on both the Mac and Windows platforms. It converts files to Office 2007, 2008, 2010, and 2011 formats.
Recosoft didn't disclose a price when announcing ID2Office Thursday.
Macworld Expo attendees can get a first-hand look at the upcoming program. Recosoft is previewing ID2Office at Booth #519 in Moscone West.
Unveiling new PDF conversion tools at Expo is becoming old hat for Recosoft. Last year, the company took the wraps off PDF2Office for iWork, its Mac-only program for converting PDFs into editable Keynote and Pages files.