Got a Mac mini in your home-entertainment system? If so, chances are you've wished for a compact, but usable, input device.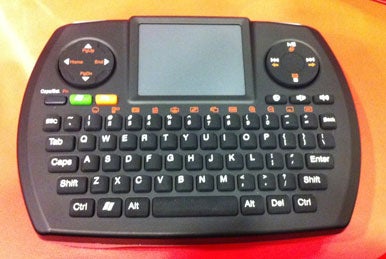 During this week's Macworld Expo, SMK-Link is showing off a prototype of the company's upcoming Ultra Mini Keyboard for Mac. About the width of a gaming-console controller, but a bit deeper front to back, the Ultra Mini features a full thumb keyboard along with a trackpad, media-control pad, and directional pad. The keyboard will connect to your Mac using the included RF USB dongle.
SMK-Link expects the Ultra Mini to ship in a couple months; the estimated price is $60.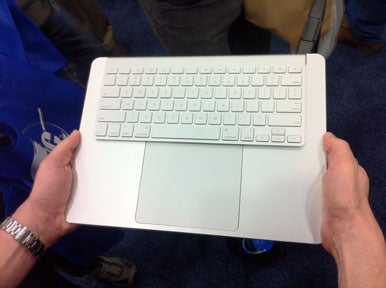 Another, more-Apple-like option, is being shown by BulletTrain. The company's representatives are walking the show floor demonstrating the Express, a machined-aluminum lap platform that elegantly holds both Apple's Wireless Keyboard and a Magic Trackpad. The result looks like an oversized version of a MacBook Pro keyboard/trackpad. The Express is shipping now.
Updated at 12:20 p.m. PT to add information about the Express.