At first blush, the upcoming CDMA version of the iPhone 4 that Verizon will offer next month appears to be nearly identical to the current AT&T GSM iPhone 4. But the CDMA phone sports a few minor physical differences that make it incompatible with many current cases.
Minor changes to the Ring/Silent switch location have had case makers scrambling to update their cases to accommodate the new phone. Fortunately for future Verizon iPhone customers, there should be plenty of protective options available in time for the phone's release to the general public on February 10. (Verizon customers can pre-order the phone a week earlier on February 3.) Here's a rundown on what's expected to be available.
AG Findings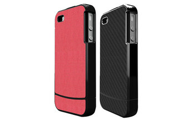 AG Findings has updated its popular Vandalay Case ($35) to fit the CDMA iPhone 4. The Vandalay case is a fashionably-designed two-piece case that comes with a belt holster with a built-in kickstand. The shell is engineered with a shock-absorbing liner, and the bottom of the case comes off for easy docking.
Also receiving the CDMA treatment is AG Finding's Beetle Case ($18), a more affordable offering that boasts a simple, lightweight design and a wide variety of available colors.
Case-Mate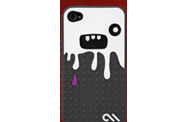 Case-Mate is also getting in on the CDMA iPhone 4 action, with a line of ten new cases prepped and ready for an end-of-January release. One case, the Pop ($30) is available now for those who want a case before the phone even ships.
The Monsta ($25) is a quirky-looking case that sports a textured grip, and features a zany monster graphic on the back that cleverly incorporates the iPhone's camera lens to serve as a misshapen eye for the beast. The Waddler ($25) is an adorable soft case that features an abstract penguin graphic and, like the Monsta case, also uses the iPhone camera lens as an eye. The Egg ($25) sports a textured design with hundreds of extruded dots of different height made to simulate the look of an egg crate and create an interesting feel in your hand. The Gelli ($20) features bright patterns and flashy colors, while the Vroom ($20) sports a textured, tire-tread design that makes your phone appear ready for some off-road action.
The Pop ($30) case is made using a co-molding technique that brings together the protective qualities of hard plastic, with the soft touch and grip-ability of rubber for a best-of-both-worlds design. Also set for release is the thick, rugged Tough case ($35), the unobtrusive Barely There case ($25), and an assortment of graphics-sporting Artists Collection cases ($35).
ID8Mobile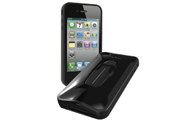 It's a Bluetooth headset, it's an iPhone case—it's a Bluetooth headset iPhone case! ID8Mobile's MoGo Talk XD2 for iPhone 4 ($100) is a protective case for your iPhone 4 that features an integrated Bluetooth headset that securely snaps on and off for convenient storage. The MoGo Talk XD headset delivers clear two-way conversation and features SmartAudio noise and wind reduction, active noise compensation and echo cancellation technology, and SoundMonitor high fidelity sound technology. The case and Bluetooth headset are compatible with both AT&T and Verizon iPhone 4s.
iLuv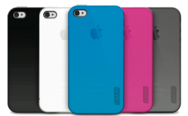 iLuv's iPhone 4 CDMA cases are set to be available when the iPhone 4 arrives at Verizon Wireless and Apple Stores on February 10. Available cases will include the Leatherette Clip Case ($50), which provides classy faux-leather protection; the Metallic Case ($30), which boasts a shiny titanium or chrome finish; the Translucent Case ($30), which features a clean, glossy finish; the Clear Case ($25), which offers see-through protection for your phone; the Flex-Gel Case ($25), which comes in five colors and offers full protection; the Flex-Trim Case ($20), a bumper-style protective case; the Glow-in-the-Dark Case ($20), which features fun, glow-in-the-dark patterns; the Silicone Case ($15), a basic, full protection case that comes in five colors; and the Sports Armband ($30), which lets you strap your phone to your arm while you exercise.
Proof Cases
Proof Cases doesn't have a particular case ready just yet, but the company has announced that it's in the process of updating its product line to work with both the CDMA and GSM iPhone 4 models. The company is also working to improve the way its cases handle the iPhone 4's LED flash. The updated cases should be released sometime next month.
Scosche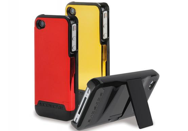 Scosche was able to modify some of its most popular cases, and will have its line of CDMA iPhone 4 cases available on February 10.
Among the cases to make the transition to CDMA is Scosche's KickBack series ($35) of hybrid polycarbonate and rubber cases that sport an integrated kickstand for landscape media viewing. The SwitchKase ($40), which includes a KickBack case and a smooth silicone skin with a removable sports armband for working out, will also be available in CDMA models.
Scosche is also modifying its SwitchBack backup battery ($35) case to accommodate the CDMA iPhone button locations. Set for a spring release, the SwitchBack surge features a rechargeable 1800 mAh lithium-ion battery that can increase your iPhone's operating time by 70 to 80 percent.
If you're looking for a more traditional case, the BeefKase ($30), which is made from real leather and polycarbonate, provides a classic, old-school look. The BeefKase is the only CDMA iPhone 4-compatible case currently available from Scosche.