Macworld 2011 got under way Thursday in San Francisco, bringing a steady flow of product announcements from the 250 vendors on hand. Here are a few of the products that grabbed our attention, ranging from keyboard protection to better ways to watch movies at home.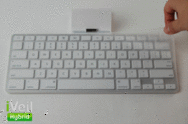 Green Onions Supply has announced its new iVeil Hybrid Keyboard Protector for the iPad keyboard dock. The protector is a quarter-millimeter thick, with a silicone underside to anchor it to the keyboard, while the top side is said to provide a typing experience similar to the uncovered, spill-vulnerable keyboard. No word on when the product will be available or how much it will cost; Green Onion said it would follow up soon with similar models for the MacBook and MacBook Air.
For Hulu and Netflix fans, Other World Computing has brought a new solution to the expo: the OWC Media Center, a hardware package that converts the Mac mini into a media center that streams music and video to a user's desktop computers, televisions, and iOS devices equipped with the Plex media-streaming app. The OWC package requires users to install the Plex multimedia management software on a mini upgraded with 4GB of RAM, and bundled with hardware that can include OWC's Mercury Pro Qx2 storage solution, the Elgato EyeTV Hybrid tuner stick, and an Apple Remote. Price and ordering information, OWC said, will be available soon.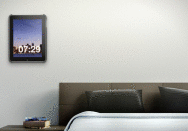 But if your tastes are a little simpler, you can stick your Apple tablet on a wall to watch video with Vogel's new line of RingO iPad mounts. The system includes an iPad holder with a ring-shaped connecting port on the back. It snaps into an aluminum ring (hence the product name) that can be hung on a wall, used as a portable tablet stand, or attached to the back of a car seat for movie viewing on long road trips. The company also offers a free WallTimes app so your wall-mounted iPad can be used as a clock. Prices range from the $70 "starter pack" with just a holder and wall mount, up to a $120 deluxe package. The devices are available immediately.
The Macworld 2011 expo continues through Saturday, so be sure to stop by the show floor, check back here at Macworld.com for more of our coverage, or stream live audio and video of some of our sessions.