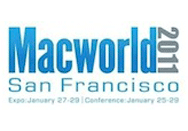 Macworld 2011 is off to a strong start. I'm just back from walking the show floor, and it wasn't easy. The Expo floor is filled not just with booths, but with many, many people. The floor feels energized, and already a few trends are becoming obvious.
On the case
First, the one thing you can't miss as you cruise the show floor is the massive world of third-party accessories that iOS devices have wrought. You can get iPhone cases decorated with your favorite album covers, with your own designs, with other people's designs, and you can find iPad stands, wrist straps, rotating cases, desk mounts, wall mounts, car mounts, and more.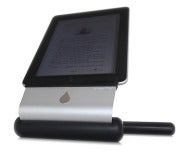 And there's no shortage of defining case features, either. At one booth, iPhones repeatedly went under a literal hammer to demonstrate the cases' ability to withstand impact. Alphyn showed off its jackets with front pouches to hold and protect your iPhone or even iPad, like the world's tech-savviest kangaroo.
Rain's iRest was perhaps the iPad stand on the floor that looks the hippest, but competition is fierce. There are so many iOS device cases on display that I wouldn't be surprised if they rename the conference iOSWorld next year.
Storage
When I was on the floor, several booths with hard drive vendors seemed mostly barren, while cloud storage related booths were mobbed. Dolly Drive's unique ability to use Time Machine with cloud storage made its booth especially popular.
I wanna be creative
Creative types have plenty to latch onto across the Expo floor. You can find image manipulation software, music making software, mixing and DJ'ing software, and more. Sonoma Wire Works and IK Multimedia showed off their iOS/guitar hookups, and Castiv touted its iPhone clamps for guitars.
Apparently us Apple devotees are kind of creative. Who knew?
Entertain me
If you'd rather consume art than create it, the show floor has you covered there, too. I particularly enjoyed the As Seen on TV TV Hat, for when you want to wear your iPhone on your face in a visor. Also interesting was the iRecord Pro, which lets you capture S-Video or composite video output directly onto your iOS device.
Security!
Finally, there's a heavy focus on security at this year's Expo, too. Surveillance software, virus scanners, mobile device trackers, Internet monitoring—whatever your safety fetish, you'll find a booth devoted to it.