Editor's Note: The following review is adapted from Five Star Apps: The Best iPhone and iPad Apps for Work and Play by Glenn Fleishman. (2010, Pearson Education and Peachpit Press).
People often complain about the high cost of cellular voice and text-messaging plans relative to the cost of data on the same plan. And that's a legitimate complaint. Even with the cost of AT&T and international carriers' metered 3G service for iPhones and 3G iPads, you still pay several cents a minute for cellular calls that would be the equivalent of a penny or less for an Internet call.
Toktumi seems to have figured out a middle ground between pure VoIP services like Skype and pure calling services offered by cell companies. This option could save quite a bit without any apparent sacrifice. The firm's Line2 app and service provides unlimited calling and text messaging to U.S. and Canadian numbers, as well as voicemail and a variety of call features. You get a "real" phone number, too, with the state and area you choose.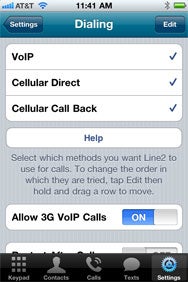 Line2 works well with iOS 4 background features: even when the program isn't running, incoming calls prompt push notifications you can use to answer. If a regular cell call comes while you're talking over Line2, you can shunt the cell caller to voicemail and resume your Line2 conversation. The software works over both 3G and Wi-Fi. 3G VoIP is initially turned off, as you could rack up cell data fees on limited plans.
Toktumi offers text messaging just like a cell company. This means no compromises about with which other networks you can exchange messages, and no charges for such messages. (Some texting apps work only a subset of U.S. mobile networks.)
Calls outside the U.S. and Canada are charged at relatively low international rates—extremely low compared to the ridiculous prices cell carriers levy.
Line2 also lets you use your cellular connection to handle its calls when, say, the data connection is poor. This keeps the cost of international calls low, and makes sense on evenings and weekends when many cell plans don't meter voice.
[Glenn Fleishman is a frequent contributor to Macworld.]