Musicians who long for a way to link up their MIDI instruments—keyboards, drum pads, synthesizers—to their iOS devices will find a compact and convenient answer to that wish in the iConnectMIDI, a high-speed MIDI interface for the iPad, iPhone, and iPod touch.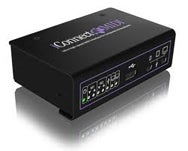 The main selling point of the device is its high-speed, or low latency, meaning that the sound generated between the connected instrument and the iOS device is nearly simultaneous. iConnectMIDI uses full speed USB at 12 Mbps and takes advantage of the new CoreMIDI framework introduced in iOS 4.2, which acts to optimize the iOS device communications with hardware MIDI connectivity.
This small box, which can also connect with your Mac if you choose, features a lightweight metal body with indicator lights for showing MIDI traffic and troubleshooting. You don't need a computer, as the device is capable of auto configuration. Configurations can be saved to internal memory and retained over power cycles.
The product is targeted to all levels of users, from students using teaching apps to learn and practice, to pros looking to connect all their gear together for advanced composing, playing, and jamming.
Using standard USB hubs, iConnectMIDI can host up to eight USB devices, all of which can work with your iOS device at the same time. Two MIDI DIN ports support the standard 16 channels each for chained MIDI devices.
The iConnectMIDI is priced at $200, but will be generally available in the March-April 2011 time frame for an introductory price of $180.