An app that lets music fans create and share playlists directly from their iPhone has been updated with features that make for more flexible podcast listening.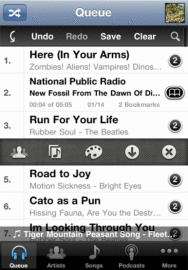 OnCue 2.0, an offering from developer Daniel Pourhadi, made its debut this month. The app is pitched as a "DJ-style" music player that lets users organize playlists from their phone's iTunes library, look ahead to see the next song in that playlist, and color code-albums, artists, and songs for easier organization and song-picking. (It also has a social media element not available in the phone's native iPod app, letting users do Last.fm scrobbling directly from OnCue.
The updated version of the app adds podcast support, letting users bookmark locations within a podcast so they can resume listening from any point within the file. Other features include the ability to more quickly "refresh" your OnCue library so that it accurately reflects the contents of your phone's MP3 holdings; a new shortcut button for adding a song to your playlist; and the ability to view the app in landscape mode.
OnCue 2.0 costs $3. The current version is compatible only with devices running iOS 4.2, but Pourhadi is promising he'll soon release a version that restores support for devices running iOS 4.0 or later.