Creating a Mac mini-based media center and finding the right combination of hardware and software can be a lot of hard work. At Macworld 2011, OWC demoed its attempt to simplify the process.
The system is built around the 2010 Mac mini ( ), which you provide, and includes the Mercury Elite-AL Pro Qx2 4-bay RAID with either 4TB, 8TB, or 12TB of storage.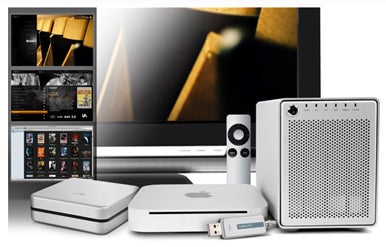 OWC will also install the Plex Media Center software, and create folders on the RAID that link to the software. The company also pre-loads HandBrake and MakeMKV to let you rip your purchased DVDs and Blu-ray discs for use with the system. An external Blu-ray drive will be an optional add-on, as will be additional RAM and either Elgato's EyeTV HD ( ) or EyeTV Hybrid ( ) TV viewing/recording hardware.
As OWC freely admitted during the demo, you could build a similar media center yourself, but the company wants to make it easy for those without the time or savvy for such a DIY project.
OWC will start offering the upgrade in February, but hasn't announced pricing yet. However, the RAID from OWC currently sells for between $550 and $1400 depending on capacity, so expect to spend more than the cost of the Mac mini itself.