Focusrite showed off its new VRM Box, an ultra-portable Virtual Reference Monitoring device that lets you mix your music in different environments, through different speakers, and from different positions, all via your headphones. VRM Box provides multiple perspectives to simulate what your music would sound like if you were listening through speakers.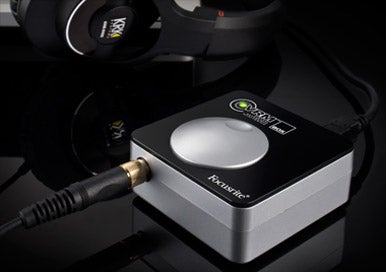 With any pair of monitoring headphones, VRM lets you choose your mixing environment—from a living room to a bedroom studio, or a professional studio.
The product lets you choose from 10 pairs of industry standard nearfield and main monitors in an acoustically treated control room. Choose among a range of speakers including quality hi-fi, computer, cheap stereo, and television speakers. You can select among a number of listening positions to check stereo imaging and observe the effects of typical room modes on your mixes.
This gives home users and travelers the freedom and flexibility to mix their creations anywhere and anytime, even late at night when loud speaker noise would disturb family, friends, and neighbors.
At 2.7 inches square by one inch high, and weighing about 4 ounces, this device will fit in your pocket or the palm of your hand.
VRM Box offers a dynamic range of 108dB and functions as a 24-bit/48kHz USB audio playback interface. It provides sound that's more precise—and with lower distortion—than other similarly priced audio interfaces, and is superior to built-in laptop headphone outputs, according to the company.
VRM Box features a digital (S/PDIF) input, which supports sample rates up to 192kHz. This allows you to run it in conjunction with a Pro Tools HD system, or any other interface with an S/PDIF output.
VRM Box uses standard headphones to reproduce the direct sound, alongside a Direct FX DSP system to simulate specific monitoring scenarios.
According to the company, VRM's room models are mathematical models that provide greater flexibility in the combinations of loudspeakers and listening positions. Loudspeaker simulations are created using convolutions of impulse responses measured using the original loudspeakers. The accuracy of these simulations in different environments is achieved via the impulse responses and the way they are calculated and manipulated, the company explained.
USB powered, the device needs no power supply or batteries. It works with Intel processors running Mac OS X 10.5 or 10.6.
VRM Box will be available for $100 in stores like Guitar Center, Sam Ash, Sweetwater, and Best Buy by early March.