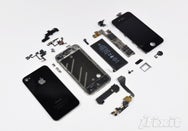 On Friday at Macworld 2011, iFixit CEO Kyle Wiens gave an hour-long presentation centering on his company's penchant for taking gadgets apart. iFixit, of course, disassembles pretty much every new Apple product, down to its innermost parts (like the iPad, the iPhone 4, and the Apple TV)—and, more impressively, is usually able to put those devices back together again, too.
As Wiens explained, iFixit began as a parts company. The company sells more Apple parts than anyone besides Apple—and Apple only sells parts to authorized resellers. But iFixit quickly realized that simply selling parts wasn't enough; you need to know what to do with the new part once you have it.
Wiens highlighted iFixit's obsessions with getting new Apple gizmos first (including flying an employee to New Zealand, where the iPhone 3G first went on sale), and ripping them apart as quickly as possible. They look for screws first, which have gotten tougher and tougher to find on Apple products these days, often leaving them with no recourse but to pry hardware apart at the seams. "There's always a little bit of tension, a little bit of fear," Wiens said, as the company tries to get into new devices—but they "almost never" break things.
As Wiens spoke, iFixit co-founder Luke Soules disassembled an 11-inch MacBookAir live on stage. The entire process took him just shy of nine minutes. The tools Soules used are standard weapons in the iFixit arsenal: various screwdrivers, torques, and a spudger. (The spudger, this reporter learned, is a device Apple also refers to as a "black stick." It's a plastic pry tool, which means you can safely use it without messing with electronics, and it shouldn't leave marks.)
Weins pointed out several clever examples of Apple's engineering design. One was the iPad's Wi-Fi antenna placement: it's embedded in the Apple logo on the rear of the device, where the rear metal plate and front glass screen shouldn't interfere with reception. Another was the clever, form-fitting batteries that Apple uses in all its newer portable devices like the MacBook Air and the iPad.
But iFixit doesn't just rip apart Apple products for the coolness factor. "We do teardowns primarily to expose repairability," Weins said. "We want to know, 'What's inside? Am I going to be able to fix it if it breaks?'" He hopes that by studying teardowns before purchasing, prudent customers might choose to forego, say, the newest iPod shuffle. When your shuffle's battery dies, Apple will replace it for—wait for it—$49. That's because the shuffle really isn't user-serviceable, and even Apple can't really replace the battery, Weins said. Instead, he suggested buyers might choose the much easier-to-repair iPod touch.
Of course, "easier-to-repair" is in the eye of the repairer. Clearly, breaking apart your pricey electronics is right for some people, and not so right for others. You need steady hands—and steady nerves—to attempt such surgery.
Weins did briefly mention " Pentalobegate," reiterating iFixit's stance that Apple's goal in moving to the rarer screw head is to keep customers from getting into their own devices. He also reiterated that iFixit just so happens to sell a kit that includes precisely the tool you'll need to remove those Pentalobular screws.
As he ended the presentation, Weins said iFixit's eventual goal is to create "a free, open-source repair manual for everything in the world… [Our] focus at the end of the day is to make things work longer."