If you're in San Francisco for this week's Macworld Expo, you could leave town $1,000 richer, thanks to a Friday treasure designed to promote Zami.com's recently released AskLocal app.
AskLocal made its App Store debut last month. It's a free location-based messaging app that lets you post messages pertaining to specific areas and neigborhoods to get replies from nearby users.
Say you're attending Macworld Expo, but are unfamiliar with the dining options around the Moscone West convention hall. You can post a question to AskLocal, setting a radius for how localized you want the responses to be (anywhere from a few feet to thousands of miles). You can also look at questions other people have posted to AskLocal by tapping on a purple pin in the app's built-in map to follow the discussions.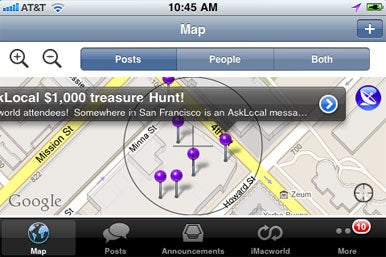 Friday's treasure hunt will start around 6:30 p.m. local time. It involves a message posted to AskLocal that will earn the first person to answer it $1,000. However, you'll have to find the location of that message first—clues will be posted in a series of AskLocal messages on Friday.
You can get more information on the AskLocal treasure hunt via the iMacworld app, which Zami.com also developed in conjunction with the Mac trade show. Just tap on the Community button on iMacworld's home screen—AskLocal is powering the mobile Expo guide's community discussion feature—and find the purple pin that has treasure hunt information.
AskLocal is a universal app that runs on iOS 3.0 and later.