On the "Have you seen…?" scale, the iGrill seems to be one of the more intriguing products at Macworld 2011: The first day of the show, more people asked me about it than about any other product. Yes, I replied, I'd seen this iOS accessory and, yes, I was intrigued.
Which is kind of funny, because the iGrill is really just a meat thermometer. You stick its needle-like probe into whatever you're cooking, and the digital read-out tells you the internal temperature. (As any good cook knows, that's the only way to reliably gauge whether that steak, chicken breast, or tofu slab is cooked as much as you want.)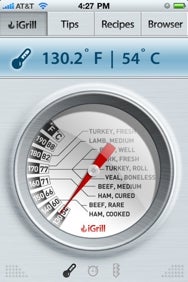 Meat thermometers are not, of course, unusual. What sets the iGrill apart is that (a) it's Bluetooth-enabled and (b) it comes with an iOS app. Which means you can read the temperature of whatever you're cooking on the screen of your iPhone/iPad/iPod touch. The app plots that reading against recommended internal temperatures for different kinds of protein. It also provides alarms when the probe reaches a specific temperature, recipes, cooking tips, and a kitchen timer.
At first glance, the iOS app is a bit of an afterthought: Why do you need it, when the temperature is right there on the probe hardware? The main reason: The company claims the iGrill has a range of up to 200 feet, so you can monitor the meat on the barbie from the comfort of the deck.
[Updated 1/28/11 1:30 p.m. to clarify purpose of the iOS app.]