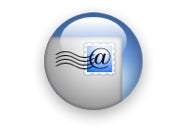 Before Macworld 2011 began, our editors got together to look over the list of exhibitors. One of the vendor blurbs boasted that the company made software for creating and managing e-mail newsletter campaigns. In other words, we all thought, the company enables spam.
When I tell the reps at E3 Software's booth about this, they shake their heads. This is clearly something they hear a lot.
In fact, the company's Direct Mail software isn't about clogging mailboxes with unwanted pitches for snake oil. It's for companies that want to create and track legitimate e-mail communications to customers who have explicitly agreed to receive it.
The software enables you to create newsletters (the latest version provides some nice-looking templates), import e-mail addresses, and send out the mailing (via your own mail server or using E3's). The Pro version of Direct Mail will check your messages against Spam Assassin profiles, to make sure they won't be caught by junk-mail filters. Once you've composed and sent out your mailing, the software helps you track the results; you can tell how many recipients opened the message, how many clicked links in it, how many of the messages bounced, and so on. Direct Mail is also a real Mac app: You can import addresses from Address Book, Mail, Entourage, FileMaker Pro, and other sources; you can drag and drop photos from your Mac's media library into your messages.
Could Direct Mail be used for ill as well as good? I suppose so. But the E3 folks are clearly sincere about their mission and its legitimate uses. This isn't shadowy creep-ware; it just faces an uphill fight, image-wise.