ALK Technologies is showcasing its navigation app CoPilot Live on the Macworld 2011 show floor.
Many versions of CoPilot Live are available; the company seems most excited about the $5 USA version and the $30, 3G iPad-optimized HD North America edition. The $5 price for the U.S. version is particularly stunning in comparison to the app's numerous pricier competitors. Even if you add on a couple of in-app purchases—like the $3 add-on for text-to-speech, or the $10 add-on for real-time traffic—the price remains impressive.
The app's been around since 2009, but ALK has steadily introduced new refinements and niceties. Among the newest is an in-app option to report navigation errors like missing or mislabeled roads. The company promises fixes for such errors within 45 days.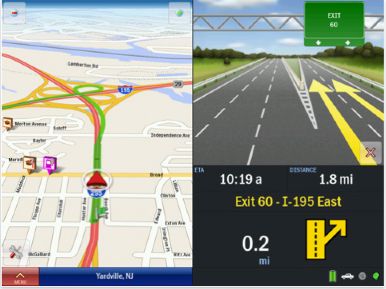 The iPad version's a bit newer; it was released near the end of 2010. On the iPad, CoPilot Live unsurprisingly packs even more information onto the screen, since there's more room to fit the 3D map and upcoming turn details side by side.
Since CoPilot Live stores all the map data on your phone (as opposed to downloading it in realtime over your 3G connection), ALK recommends that you download and install it from iTunes, rather than directly on your device.