You still can't do everything on an iPad that you can on a Mac. Suppose you create a work document—a word processing file, spreadsheet, presentation, or PDF, for example—on your Mac, and want to edit or annotate it on your iPad and then return it to your Mac as intact as possible. It's doable, but it isn't necessarily easy, and some documents won't survive the round-trip completely intact.
Office Documents
It's taken for granted that pretty much anyone with a Mac (or Windows PC) can open Microsoft Office documents. (For the purposes of this article, Microsoft Office documents means those conforming to the older, and more widely used, Office formats: .doc, .xls, and .ppt, rather than the more recent XML-based .docx, .xlsx, and .pptx formats.) Even if you don't have a copy of Office itself, you can use any of the many inexpensive or free third-party applications that open Office documents and preserve most (if not all) of their formatting.
The situation is completely different on an iPad. For starters, there's no Microsoft Office for iOS. Many apps can read Office documents, few can edit them. Worse, you may lose formatting and other elements (such as tables and graphics) from a document in the course of round-tripping it between your Mac and your iPad. And because iOS has no shared file-storage system, Just moving those documents to and from the tablet can be a challenge, too.
Given all that, what's the best, most convenient way to transfer Office documents to your iPad, edit them there, and then transfer them back to your Mac? The answers depend on the kind of document you're working with.
Word (.doc) Only a few iPad apps can edit Word documents; even fewer can do a reasonably good job of it, including retaining all the character and paragraph formatting of the original.
Apple's own Pages ( ) is a natural choice: It's the most full-featured word processor for the iPad, it supports graphics and tables, and it can both import and export documents in Word format. However, importing a Word document into Pages permanently strips out many elements, including tracked changes, comments, footnotes and endnotes, and bookmarks. (Apple provides a list of everything that will change.)
Doc2 HD, a $6 word processor from byte2, lets you add and edit character font, size, style, and color; paragraph alignment and indentation; bulleted and numbered lists; tables; and graphics. Unfortunately, saving edited documents strips out quite a bit of Word formatting (including styles and bookmarks) and wrecks special characters. (The same vendor's $8 Office2 HD suite ( ) does the same and adds spreadsheet editing.)
DataViz's Documents To Go ( ) and Documents To Go Premium ( ) let you edit Word files, and both provide fair formatting controls. Although you can't add elements such as graphics or tables, you can see them in imported documents. Crucially, Documents To Go preserves all of the file's original formatting and contents during the import and export process, so even elements that can't be displayed (such as footnotes and tracked changes) appear correctly when the document returns to your Mac.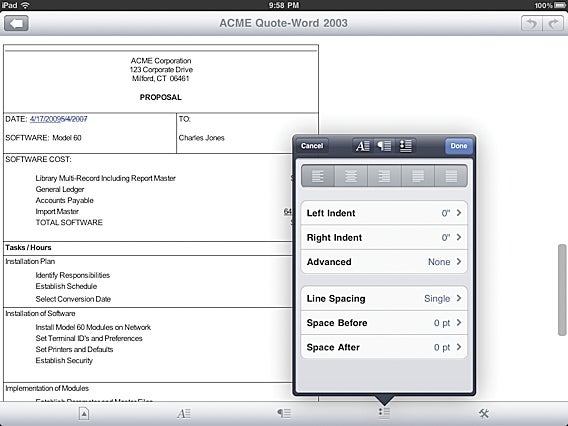 Quickoffice Connect Mobile Suite ( ), from Quickoffice, also preserves the formatting and other elements of the original file when you edit and export it. Unfortunately, its editing capabilities are even more limited than Documents To Go's—only basic character styles (bold, italic, and underline), font, size, text and highlight color, and paragraph attributes such as alignment and bulleted lists are supported.
If you need to edit Word files on your iPad, I think your best choice is between Pages, which offers extensive editing capabilities but strips out elements from the original, and an app like Documents To Go or Quickoffice Connect Mobile Suite, which preserves the formatting and contents of the original but offers limited editing capabilities. In my experience, preserving document fidelity is more important than having the formatting tools; I'm more likely to be editing for content on an iPad than adding fancy features. Since Documents To Go has more formatting tools than Quickoffice Connect Mobile Suite, that's the app I'd choose.
A typical workflow might go like this: Locate the file you want to edit on your iPad and drag it from your Mac to Dropbox or MobileMe iDisk. In Documents To Go, navigate to that file and tap it once to download it to your iPad; tap it a second time to open it for editing. After making any desired changes, tap the document icon in the lower left corner of the screen and then tap either Save (to keep the same name) or Save As (to give the file a new name). Tap the left arrow at the top of the screen and, when prompted to sync pending files, tap Yes. The app will then copy the edited file back to the cloud, where you can retrieve it from your Mac.
Excel (.xls) The story for Excel files is similar to that for Word files, except that your choices aren't quite so painful.
Because it can import and export .xls files, Apple's Numbers ( ) will certainly do the trick. As with Pages, though, importing removes or alters spreadsheet elements you may want to preserve: Merged cells are split, while comments, headers, footers, and 3D charts disappear. Again, Apple provides a list of the import peculiarities.
Sheet2 HD, the spreadsheet app from byte2, will let you edit Office spreadsheets (as will the spreadsheet module in Office2). Most spreadsheet features are preserved when you save a worksheet, but not all; for example, charts disappear altogether.
Documents To Go, Documents To Go Premium, and Quickoffice Connect Mobile Suite also support Excel-file editing, offer a reasonable set of spreadsheet features, and preserve many elements, including charts.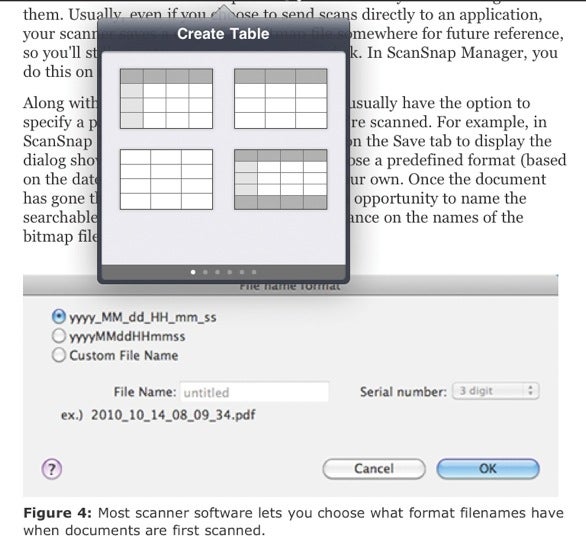 If it's essential to maintain all formatting and data, Numbers, Sheet2 HD, and Office2 HD are not good choices; Documents To Go or Quickoffice Connect Mobile Suite are your best bets. Between those two, your choice depends on the interface or feature set you prefer. If you need to edit both Word and Excel files on your iPad, get Documents To Go. If that's your choice, the workflow you'd follow is exactly the same as for Word files.
PowerPoint (.ppt) When it comes to editing PowerPoint documents on an iPad, your options are extremely limited. Office2 HD can display PowerPoint files, but it can't edit them. That means your options are either Apple's $10 Keynote ( ) or Documents To Go Premium Edition. A recent update to Quickoffice Connect Mobile Suite added PowerPoint editing, but it arrived too late for us to evaluate for this story.
You won't be surprised to learn that Keynote removes formatting and data from PowerPoint documents upon import (full list of such changes here), or that Documents To Go Premium preserves all the formatting. However, Keynote on the iPad is vastly more capable at creating, editing, and showing presentations. So if you need to make only minor edits, Documents To Go may be fine. But if you intend to do any significant work, or to use your iPad to run a presentation (by connecting it to a display via the VGA adapter), Keynote makes more sense.
The easiest Keynote workflow is to copy your presentation(s) to iDisk. In Keynote, tap My Presentations, then the Import button, and then Copy From iDisk. Navigate to the file and tap it to import it. To export the file when you're done, tap My Presentations and then the Action button, then tap Copy to iDisk, and tap PowerPoint. Finally, navigate to the desired location and tap Copy.
Google Docs
Google recently made it possible to edit Google Docs files on an iPad, using Safari. Because you can upload Microsoft Office documents to a Google Docs account, that means you could theoretically edit Office docs on your iPad by using Google as an intermediary. But while that process does indeed work, it has some serious limitations.
For one thing, you have to convert uploaded documents to Google's formats before you can edit them. And, as is usually the case with file imports, that conversion strips out formatting and other features.
For another, when you visit your Google Docs account on an iPad, Google by default displays the mobile version of the site; the editing tools in that mobile version are extremely limited.
You could switch from the mobile to the regular version of Google's editors. (For example, in Google Documents, you tap the Desktop link at the bottom of the page.) But the controls in the desktop version were designed for use with a mouse, not a touchscreen; you could find it difficult (or even impossible) to do such basic things as selecting text or changing document margins.
Senior Contributor Joe Kissell is the senior editor of TidBits and the author of the e-book Take Control of Working with Your iPad (TidBits Publishing, 2010).
Office for Mac Home and Business 2011