Walking by the mobile apps pavilion at Macworld Expo this week, it would be hard to miss the crowds gathered around Liv Games' Legendary Wars demonstration. Nothing packs in an audience like armored unicorns shooting rainbows at evil spiders.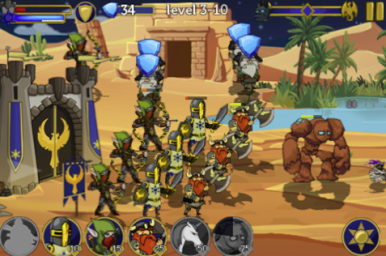 Macworld Expo 2011 has been a great show for the iPhone, iPod touch, and iPad. Yet with so many developers pushing products for the iOS platform, Legendary Wars' iconic art and bold blending of gaming genres still turns heads. Released Thursday on the iOS App Store and costing $3, Legendary Wars is a fantasy-themed game uniquely combining many genres, offering a more varied gaming experience than what iOS users may have come to expect.
The game features role-playing, strategy, tower-defense, and side-scrolling action elements but still seems as approachable and easy-to-pick-up as many games currently on the App Store.
While casual titles have been immensely successful on the iPhone and iPad due to their intuitive nature, games like Angry Birds and FarmVille prove that players are also seeking longer gameplay experiences. Short-game playing sessions are still the norm, but players want to work towards something greater. Liv Games definitely understands this nuance of mobile gaming, and so marries an approachable-tap interface, 2-D animation, and short play sessions with more traditionally "hardcore" elements like unit leveling, exploration, and boss fights.
In a scale that was once considered impossible on the iPhone, Legendary Wars offers five lands and more than 50 levels to explore. You control an army with seven soldier types (like the traditional archer and knight as well as more unconventional units like rainbow-shooting unicorns) and can unlock two sets of armor for each. You'll defend castles, siege enemy strongholds, ambush more than 20 different enemies, fight 10 challenging bosses, and even have action-side scrolling segments you have to pass.
The game is rendered in a cartoonish 2-D animation style that should appeal to gamers across age demographics. While easy to pick up (everything from attacking to upgrading units can be performed with a simple tap) if the game is as complex as Liv Games boasts, then core gamers will have new reason to look to the iOS as the place to be. If you're by the mobile pavilion (booth #818 in Moscone West), definitely check out this exciting new title.