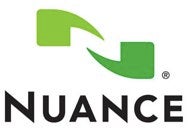 Nuance, makers of the popular line of Dragon dictation apps for Mac, iOS, and other platforms, says that third-party mobile developers can now build voice recognition tech into their apps. I sat down with Aaron Masih, Nuance's Director of Global Business Development, at Macworld Expo 2011 to chat about what this means for mobile users.
Masih explained that Nuance, in a nutshell, is making it really easy for third-party mobile developers to piggyback onto its powerful cloud-based voice recognition and search services. The company gives developers its new Dragon Mobile software development kit, and after some integration magic, you can use your voice in a growing number of apps to do a lot more than make phone calls with your iPhone.
A handful of apps from big-name partners were ready with voice integration for the launch, including Amazon's updated Price Check, Dictionary.com, and Ask.com. Aisle411 should update its shopping navigation app soon, but Masih told me that between a brief private beta period and this launch, Nuance has signed up more than 1,000 other partners that have plans to add its voice tech to their apps.
Masih and I also got into an interesting discussion about the way that voice integration changes how apps are actually designed. "You can't just put a bunch of microphone buttons next to six text boxes," Masih quipped. "That's a terrible experience." Masih cited Siri, a Nuance partner that Apple quietly bought last April, and Amazon's app as examples of successfully adapting interfaces for voice control and the many instances where such a feature can be handy. Things like large text and unique button layouts not only allow your voice to become the primary interface tool, but they're also crucial for using your phone in less-than-ideal typing situations such as driving, entering a lot of input, and—for many people—plain ol' walking.
Of course, Apple's acquisition of Siri, one of Nuance's first partners for this Dragon Mobile SDK program, led us to the topic of whether Nuance has to worry about Apple some day integrating and expanding its Voice Control features more broadly across iOS. Masih steered clear of commenting on Apple's voice automation plans, but didn't seem worried about this possibility, adding that Nuance was happy to be powering Siri's app.
Masih demoed all the launch partner apps I've mentioned, and I was impressed with how accurately and quickly they could transcribe voice commands and act on them, especially on the crowded, bustling Expo floor. It'll be nice to see Nuance's services become more ubiquitous as more developers turn out new and updated apps.