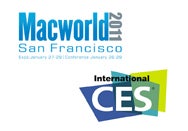 During our time at CES earlier this month, senior editor Dan Frakes and I asked many of the vendors we met with if they were going to be attending Macworld Expo as well. Some said yes, but quite a few others said they wouldn't be making the journey. Of course, there are some valid reasons for not exhibiting at both events—travel/tradeshow budget constraints being one of them—but there are just as many reasons to say yes.
1. Smaller can be better
Although the iLounge Pavilion conveniently collects many (but not all, as we found) of the exhibitors of the Apple ecosystem, it's still a small sliver of space compared to the rest of the massive consumer electronics event. With multiple halls, floors, and even locations, CES is a sprawling mini-city where you're lucky if you can see a tiny fraction of it before going completely mad.
Jessica Cole, who handles product marketing for Kanex, (the company exhibited at both events) told me that the foot traffic at Macworld 2011 has been much better than at CES, due to everything being in a single hall. At a smaller show, you're much more likely to see things, and therefore companies are much more likely to get noticed.
2. They have completely different audiences
Macworld Expo is a consumer-focused show, whereas CES is a trade event. Unless you're in the industry (or a member of the media), you can't even get in the door in Las Vegas. Just check out the CES FAQs and you'll find this:
International CES is not open to the general public. You must be in the consumer electronics industry to be eligible to attend the show. Our attendees are made up of more than 120,000 individuals including manufacturers, retailers, content providers and creators, broadband developers, installers, engineers, corporate buyers, government leaders, financial analysts and the media.
To come to Macworld, you don't need any special titles or secret handshakes. It's a consumer event, and it's open to anyone who registers.
I talked with Michael Lowdermilk, business development manager for FastMac, and he said what makes a show like Macworld so great is the opportunity to interact with customers (and, of course, potential customers). Being able to show products to people directly and answer questions (as well as address complaints) is the kind of the thing you can only do in this type of environment.
3. You can sell and buy products at Macworld
Many exhibitors at Macworld sell a lot of stuff during the event (often helped by show specials, which many attendees specifically come searching for). As an example, Scosche—a company I also met with at CES—told me it was very pleased with its sales at Macworld after the first day of this week's show.
By contrast, exhibitors at CES are prohibited from selling anything to passersby. In fact, some of the companies who attend CES are there looking for distribution deals—in other words, you might not even be able to buy those products for a long time, if ever. True, you might see prototypes or even mockups on the show floor at Moscone West, but the companies showing them generally already sell products to the public, and will be able to offer anything new when the time comes.
Final thoughts
The same company that owns Macworld—IDG—also owns IDG World Expo, which organizes this week's show. But I would have the same opinion even if I were attending Expo on my own, and I think other attendees would feel the same way. After all, attendance seems to be in line with last year's Expo, the first one that Apple opted to skip. So it seems that Macworld Expo continues to serve the needs of attendees and exhibitors in ways that CES doesn't—or doesn't even attempt. The two shows exist for different reasons, and that's reason enough that they can both continue for years to come.