If you are over thirty, chances are that a fair portion of your teenage allowances ended up in the cash box of an arcade machine that bore one of Sega's Virtua Fighter logos—primitive though they may look now, it was difficult, at the time, to resist 3-D graphics that looked straight out of the best Hollywood movies.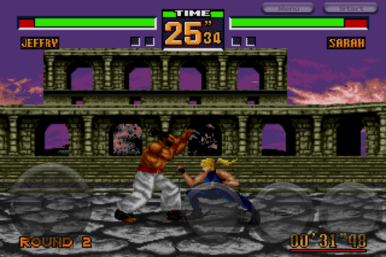 Sadly, this version of iconic fighting game Virtua Fighter 2 is unlikely to bring you all the way back to the smoky, noisy arcade rooms of your youth; instead, it will plunge you into the depths of mid-1990s consoles, when Sony's Playstation was emerging as the winner in a long battle against its Japanese rivals, and Sega's hardware business was already well into its sunset years.
This version Virtua Fighter 2 for iOS is actually a port of the game of the same name that Sega published for the Genesis console all the way back in 1997. The Genesis, sadly, was not capable of displaying any of 3-D graphics that were the hallmark of the Virtua Fighter series. Frustratingly, in addition to lacking 3-D graphics and the ability to move in a 3-D world, Virtua Fighter 2 for the iOS also lacks some of the characters present in the original arcade. Lion and his praying mantis style, for example, are nowhere to be seen.
As a result, this is a thoroughly bi-dimensional game, with 1990-style graphics and sound to boot. The port is entirely faithful to its forefather—perhaps because it is exactly the same code running inside an emulator. The various bits and pieces required to make the game work with a touch-input device look like they have been pasted on the screen with little regard for their usefulness or effect that their position has on gameplay.
The graphics and sound are exactly what you would expect from a game that is fifteen years old; Virtua Fighter 2 looks fuzzy—particularly on a Retina display—regardless of whether it is played in full-screen or original-size mode. By modern standards, even compared to the many classic games that have been ported to recent platforms, the music sounds like an eight-bit chainshaw running through a ball of piano wire.
The lack of tactile feedback that one enjoys on a real D-pad and buttons makes achieving the powerful combos required to drain your enemies of energy quite difficult. Landing punches and kicks doesn't feel the same. As a result, while it's relatively easy to make your way through the first three levels by fumbling with the virtual controls, the game becomes suddenly very challenging once you reach level four and your opponents get tougher.
Virtua Fighter 2 has a number of significant problems, and is not a game that will give you much in the way of enjoyment. Even taking into consideration the nostalgia factor, it lacks the level of attention to details that iOS users have come to expect from their games, whether brand-new or reincarnations of old classics. Its relatively high price makes it a poor candidate for reliving the glory of our misspent youth, and is more likely to bring thoughts of buyer's remorse than of days gone by.
[Marco Tabini is a frequent contributor to Macworld.]