If you ever dreamed of producing your own live-to tape style productions—or maybe just want to zoom through your video podcast or tutorial— BoinxTV Home aims to be the easiest and fastest way to go. Available exclusively from Apple's App Store for $50, BoinxTV Home is live-video production software designed to convert your home location into a professional TV studio for the real-time Web video creation.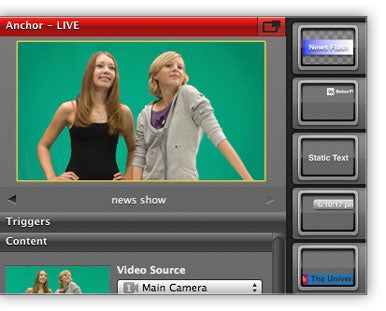 BoinxTV Home improves home videos with creative tools such as lower thirds, text and titles, tickers, green screen backgrounds, and more, on video captured live by a camera, including iSight cameras built into the Mac notebooks, at a resolution of up to 960-by-540 pixels.
"Video is changing the world and way we communicate. Anyone can now tell their story, teach others their favorite makeup techniques or soccer tricks, or simply send a love note using video and platforms like YouTube," says Oliver Breidenbach, Boinx Software's CEO. "BoinxTV Home embodies our dream of bringing the professional look and feel of a real TV studio to home users."
BoinxTV Home facilitates real-time editing of videos while recording, thus eliminating the tedious post-production process usually needed to add effects to a video. BoinxTV Home allows the simultaneous use of up to 15 layers for quick and easy video rendering. Once rendering is complete, users can upload their videos directly to their YouTube accounts.
BoinxTV Home is based BoinxTV ($499), the company's professional live video software. BoinxTV features support for multiple cameras, unlimited layers, higher resolution, and more.
BoinxTV Home software works with Mac OS X 10.6.6.