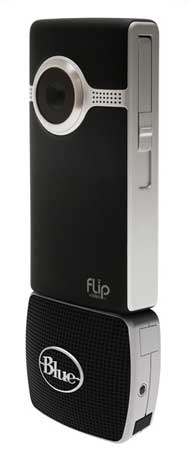 Blue Microphones demoed the new Mikey for Flip, an external condenser Mic specially designed for Flip camcorders.
Mikey for Flip is designed to enhance the sound of Flip video recordings and offers stereo CD sound quality. It records at 44.1 kHz, 16-bit stereo, thus expanding the capabilities of the Flip camera. The mic plugs directly into the camera's FlipPort connector. Then, just press Record. Mikey for Flip is designed for all FlipPort-enabled Flip video cameras, including the Flip UltraHD model.
The mic runs on AAA battery power and comes with a built-in tripod mount and cloth carrying pouch. A Mic-in port facilitates easy plug-in of an additional corded interview, handheld, or lavalier microphone.
An automatic sensitivity switch with a Loud setting allows Mikey for Flip to record any volume level clearly, from a whisper to a rock concert.
The Mikey for Flip will be available this spring for $69.