Mac music makers who hit the show floor at this year's Macworld conference haven't come away disappointed. Companies large and small dotted the Macworld 2011 show floor this week, ready to help you rock.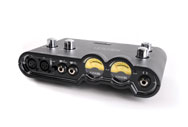 Booth No. 331 alone features a who's who of Mac music creation, all working together to set up a drool-worthy home recording studio. Line6 contributed its $199 Pod Studio UX2 USB interface with two 1/4inch and two XLR inputs. Novation's Nocturn keyboard, a $249 midi controller was playing nice with Propellerhead Software's Reason 5.0.1 and Record 1.5.1 digital audio workstation—available as a bundle for $449. KRK Systems offered up its popular VXT 6 powered studio monitors as well as its new $149 KNS8400 professional headphones. RODE Microphones chipped in their $399 multi pattern condensor microphone, the NT2-A.
Tired yet? I hope not, there's a lot more to see.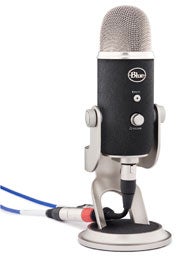 IK Multimedia in Booth No. 518, for example, drew huge crowds with its iOS music making apps and hardware, including the iRig guitar interface adapter for iOS devices and the iRig Mic, a handheld vocal microphone. Both work with the company's Amplitube software for iPhone and iPad. The iKlip is a $39 adjustable iPad holder that connect securely to your microphone stand, making it easy to read tabs, lyrics, and more.
Blue Microphones in Booth No. 721 is showing off its line of USB and XLR microphones, including the brand new Blue Yeti Pro ($249), which features both connection types along with 24-bit 192KHz recording resolution. Also on display is its new Reactor, a $499 large diaphragm condenser microphone inspired by Blue's famous B6 capsule, found in the company's microphones costing thousands of dollars more.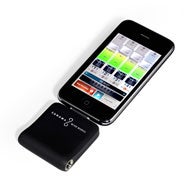 Sonoma Wire Works has its GuitarJack 2, a $149, high quality guitar interface for iPhone 4 and iPad on display. It connects to your iOS device's dock connector which eliminates crosstalk and offers a better signal-to-noise ratio. It works with the company's iOS apps like FourTrack, and StudioTrack. The company is also demoing its Mac music software titles like RiffWorks and DrumCore.