Seagate is known for top-notch external storage, and in Booth No. 308 at Macworld 2011, the company is showcasing a new line of GoFlex hard drives geared specifically toward Mac users.
Instead of including three or four different types of connectors, many of which are never used, Seagate's GoFlex drives use adapters to connect to USB, Firewire and eSATA. And while meant to be cross platform, they were formatted as NTFS and therefore more attractive to PC users. There was, however, some software included to allow your Mac to mount and use the drive too. If you wanted to run Time Machine on a GoFlex, you'd need to reformat the drive to HFS+.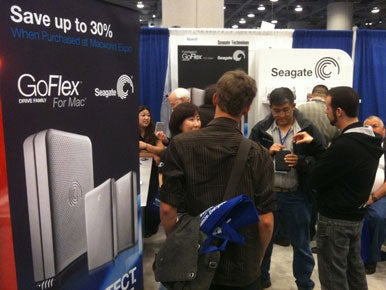 But with the new GoFlex for Mac line that the company announced Wednesday, the tables have been turned—these drives come out of the box ready for Macs and can also work with PCs without having to reformat the drive.
Each drive comes with both USB 2.0 and FireWire 800 adapters with a variety of sizes. The GoFlex for Mac Ultra-portable comes in 1TB or 1.5TB, the GoFlex Pro for Mac goes from 500GB to 750GB, and the GoFlex Desk for Mac comes in at whopping 2TB or 3TB sizes.
For some users, the new Mac-centric setup is a big deal, as I caught more than a few visitors to the Seagate booth commenting that they didn't know how to format an external drive. GoFlex for Mac eliminates that step all together, as the drives are pre-formatted with the HFS+ file system used in Apple's computers, as well as an HFS+ driver for added Windows compatibility. Not only does this makes things easier for Mac users who want to use Time Machine straight from the get-go, it's user friendly for people who don't know the ins and outs of Disk Utility.
Aside from the new Mac-centricity of these new GoFlex hard drives, the GoFlex Pro for Mac has one notable feature that its siblings do not—a 7200rpm spin speed that Seagate claims boosts FireWire 800 performance by 40 percent. We'll see when we test them at Macworld Labs, but it's interesting to see that kind of disk speed in compact, portable storage.
GoFlex Pro for Mac Ultra-portable Drive 750GB
GoFlex for Mac Ultra-portable Drive 1TB
GoFlex Pro for Mac Ultra-portable Drive 500GB
GoFlex Desk for Mac External Drive 2TB
GoFlex for Mac Ultra-portable Drive 1.5TB
GoFlex Desk for Mac External Drive 3TB