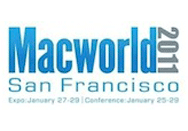 I've never been to Macworld Expo. And technically, I still haven't, since the event ending its three-day, San Francisco-based reign of Apple nerdery on Saturday is now simply called Macworld 2011, and not Macworld Expo. But here I am for the first time, seeing the speakers, visiting the booths, and wondering just how long city blocks can be in this town.
Perhaps all of Macworld's coverage of this year's event has you fired up and ready to go to next year's event. If so, you may benefit from some some of these lessons that I learned as a first-time expo attendee:
1. "Moscone" doesn't rhyme with "Joss Stone." Rather, it rhymes with "Floss Pony." Please don't ask what a floss pony is.
2. The Moscone Center where the conference is held isn't just one building; it's several. This year, though, if you accidentally wandered into the wrong Moscone building, you were still thrust into a sea of lovable nerds, thanks to the other conference in town focused on, I kid you not, lasers.
3. Wear comfortable walking shoes. You're on your feet constantly at Macworld, and even though the show is not as spread out as in years past, there's plenty of walking. If you're used to sitting comfortably all day in front of your Mac, consider prepping all year so that you can handle the physical rigors of the conference. More importantly, bring plenty of hand sanitizer, lest you be stricken with the annual tradeshow plague.
4. Macworld Senior Associate Editor Dan Moren is taller than you expect.
5. Save up. Most of the many, many vendors showing off their many, many gadgets and accessories on the show floor will gladly sell them to you—often at substantial discounts. You could be well-served to bring a swag bag.
6. Schedule and pace yourself. As with The Condor, there are three days of expo. You needn't see everything on the first day. My strategy was to ignore the booths that were the most crowded early on, so that I could revisit them later when things weren't so packed. And there are plenty of presentations and lectures elsewhere at the conference—you'll definitely want to budget time for those. The iMacworld app can help you keep track of your schedule, or you can just use a pencil and paper. If you don't mind being mocked mercilessly by your iPhone-toting peers.
7. There are folks walking the show floor who want to show off their Apple-related products, even though they don't have actual booths. These people are usually harmless, so you shouldn't panic when they lean in conspiratorially and ask, "Hey, wanna see a cool iPhone app?" Unless they then invite you to view their wares in a dark alley behind Moscone.
8. A booth's size isn't necessarily a reflection of its awesomeness. Floor space at Macworld ain't cheap, and some of the coolest things I saw were at small round tables shared—literally—by three different vendors. With companies packed in so tightly, it's easy to miss some that might be of interest. We recommend walking to the middle of the show floor and loudly yelling, "Anybody got anything interesting to show me?" Exhibitors love that.
9. You can phone home. I was pretty nervous about AT&T 3G reception, with so many iPhones in one place and the Verizon iPhone still a couple weeks away. Impressively, though, I've had no trouble at all, leading me to believe that AT&T has adequately performed the requisite sacrifices and dark rituals to ensure coverage here.
10. Seriously, Dan Moren is really very tall.