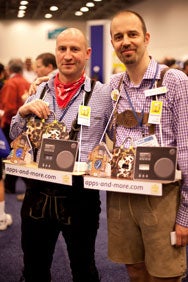 Want to stand out at Macworld Expo? Try sporting lederhosen. It certainly worked for the representatives of Apps-and-More.com,who brought a taste of Oktoberfest to San Francisco in January to promote their iOS efforts.
Perhaps you've looked down at your iPhone's clock and thought, "Man, I wish I could turn my iPhone into a cuckoo clock.'" That's where Apps-and-More.com's lineup of accessories comes in. The company sells opaque cardboard masks that cover all but a small portion of your iPhone's screen. Put the mask on, and your iPhone takes on the appearance of a cuckoo clock—or a radio alarm clock, or a woman's handbag, depending on your choice of mask. For example, with the cuckoo clock mask, a fake wooden exterior slips over your iPhone's screen, only leaving the clock portion of your phone visible. The faceplates start at $13.
Once you download Apps-in-More's $1 Lifestyle Clock app, your standard iPhone clock transforms into one of several different digitally rendered clocks—including the Germanic cuckoo, the classic radio alarm clock, or the strange women's handbag clock.
And if the clock-faceplate combo isn't to your taste, there's always Apps-and-More's Beersongs offering to put you in that Oktoberfest frame of mind—sans the lederhosen, of course.