Most products on the Macworld 2011 show floor only dream of scoring budgets big enough for television advertising. But at least one product on display indeed has been televised—which is only fitting, since it's a video-focused product: The TV Hat.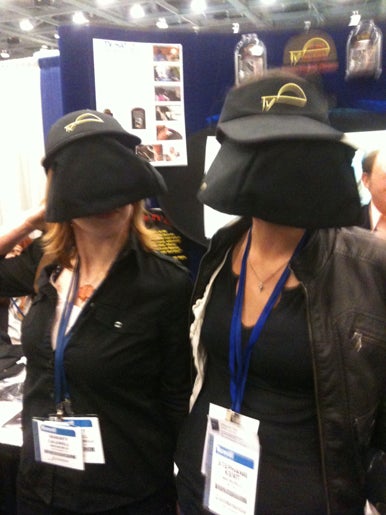 The TV Hat, you may be surprised to learn, is a head-mounted garment for privately viewing video on your iPhone or iPod touch. The headgear, which comes in both cap and visor form, features an extended brim with a black cloth privacy curtain. You insert your device into a clear plastic pouch on the inside of the curtain and secure the Velcro strips. An adjustable glass allows you to magnify the screen to your liking.
The $30 As-Seen-on-TV TV Hat is available in black, blue, white, red, khaki, or camouflage, but given that the wearer looks something like a futuristic 3-D raccoon, we don't think the camouflage option will actually help you remain hidden while you're traipsing through the woods.
Read more…