3D video was the talk at this month's Consumer Electronics Show in Las Vegas, but at Macworld 2011, app maker Holographic Audio Theater was looking to promote the idea of 3D audio. The company thinks that "three-dimensional audio" provides the most immersive experience, and it was in San Francisco this week to promote an app— Naturespace—that it thinks will drive that point home.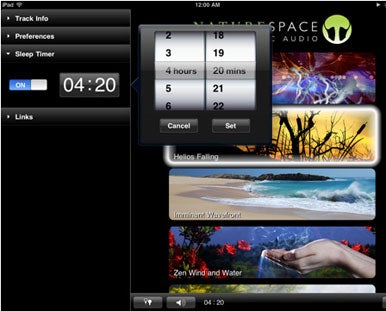 With 3D audio, you get the feeling of sounds coming from all around you, rather than just from your two earbuds. For Naturespace, that means rather than listening to recordings as they play in the left and right ear of your headphones, you can experience the sounds of the natural world in 360 degrees. The free app comes with six tracks of nature sounds; an additional 80 tracks are available as in-app purchases, ranging from $1 to $3. Tracks include rainforest sounds, wolves howling, and rainfall.
For the best experience with Naturespace tracks, the developer recommends listening on headphones with your eyes closed. Each song title you purchase comes with a headphone and earbud optimized track. While I only experienced the app with the high-end headphones at the Holographic Audio Theater booth on the Expo showfloor, the exhibitor enthusiastically assured me that the company's mastering process for earbud tracks also does an excellent job of transporting a listener to the audio environment they're hearing.
The holographic audio can be played on any device that supports M4A files. The Naturespace app is optimized for the iPad as well as the iPhone and iPod touch.