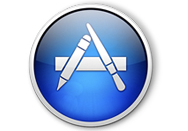 The Mac App Store may already feel like an old friend, but in fact, it's only been around a scant three weeks. That's still enough time for various Mac software developers around the Macworld 2011 conference floor to form some firm opinions about the store and its impact on their business.
Developers already in the Mac App Store
Folks whose apps are already in the store sound quite pleased. The Mac App Store is another form of advertising, said Greg Scown, co-founder of Smile. Smile's PDFpen, PDFpenPro, and DiscLabel are all available in the store. Of course, Smile's flagship TextExpander hasn't yet made its way into the store—though not for lack of trying. Scown noted that the app is "in review" with the App Store's moderators, and that Smile has gone "a few rounds" thus far, trying to get the app approved. Scown said that he has every reason to believe that, eventually, TextExpander will too appear in the Mac App Store. On the whole, Smile's feelings on the store are easy to sum up: "We're thrilled," he said.
Jim Teece of Envision, makers of Art Authority for the Mac, iPhone, and iPad, is really happy to be in the Mac App Store, calling it "absolutely brilliant." He told Macworld that Envision has sold more copies of Art Authority through the Mac App Store in several weeks than in the past year. His booth on the floor has been steadily busy for the whole show, and he's sent every interested customer straight to the Mac App Store, not even bothering to mention the company's Website.
We also spoke with Christoph Teschner, software architect at Algoriddim, which makes Djay for the Mac and iPad. Though he wouldn't talk Mac App Store numbers or even a comparison to pre-store sales, he said Algoriddim is really happy to be in the store.
Those who aren't in the store yet
Other developers on the show floor aren't in the Mac App Store at all yet, though they want to be. BusyMac's BusyCal isn't in the store, but should be there by next month, according to co-founder John Chaffee. In fact, he said that the version of BusyCal being demoed on the show floor actually was the Mac App Store build, which just hasn't been submitted to Apple for review.
e3 Software said that it would love for Direct Mail to appear on the Mac App Store, but that the software's been in review since mid-November 2010. Developer frustrations about slow, silent review periods seem to have been ported over directly from the iOS App Store.
Nuance Senior Vice President and General Manager, Peter S. Mahoney, said that he'd love to see Dragon Dictate (née MacSpeech Dictate) in the Mac App Store—especially considering how well the Dragon Dictation app has performed on the iOS App Store—but the company can't submit the app "as we know it today." That's because the app uses private APIs, which Apple doesn't allow for Mac App Store apps. Mahoney acknowledged that the store is an important tool for reaching a certain sector of Apple consumers, who will now only buy software if they can find it on the Mac App Store.
Paul Kafasis, CEO of Rogue Amoeba, said that his company faces a similar challenge. Because most of the company's commercial software requires either root access, private APIs, or both, Apple won't allow them in the Mac App Store. Rogue Amoeba would thus need to create what Kafasis called "neutered" versions of its apps—limited in feature set—to get allowed into the store.
Bottom line
So, three weeks in, it seems that the developers whose apps are well-suited to the Mac App Store are either thrilled to be there or eager to get there. For developers whose apps for whatever reason can't get into the store, there's definitely some unhappiness about a missed opportunity.