[Editor's Note: This story is reprinted from GamePro. For more iPhone game coverage, visit Gamepro's iPhone section.]
When the mysterious "Project Sword" was first announced a few months back, both the public and the gaming press were blown away. Epic Games' proprietary Unreal Engine has become a staple of HD-gen console gaming, and seeing the engine in action on the iPhone and iPad is undeniably impressive. Now that that game (which we now know as Infinity Blade) has arrived on the App Store, it's time to see what sort of mobile gaming is actually possible with Epic's astonishing technology.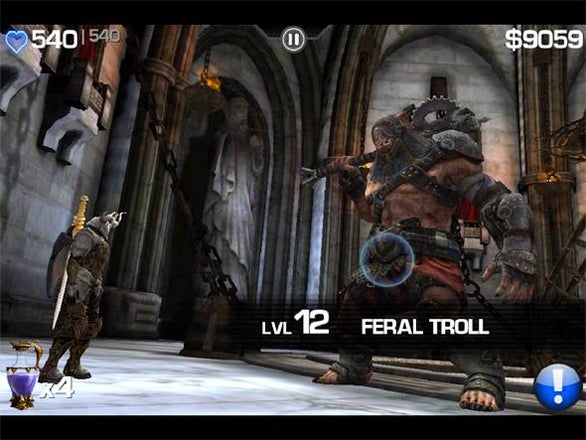 Infinity Blade opens with an armored knight entering the lair of an evil being known as the "God King." Our hero informs the God King that he has come to deliver some medieval justice, and is promptly impaled on a glowing sword. The game flashes-forward 20 years to the son of the fallen knight as he stands on a cliff overlooking the scene of his father's murder. As the son, your goal is to fight through the God King's castle to avenge your father's death.
The game itself is a sort of on-rails adventure in which you fight numerous one-on-one battles with evil swordsmen and massive ogres as you tour the God King's castle. Battles play out not unlike the fights in Nintendo's classic Punch-Out! series: you have access to a block button and two dodge buttons, and you'll have to successfully learn and maneuver enemy attack pattern before returning their blows with an on-screen swipe. You'll earn experience points and money by winning fights, and you can visit a store at any point to upgrade your equipment or allocate skill points to customize your character.
I suspect that a lot of people might be disappointed to learn that the game is on-rails, but its linear nature never hinders the core experience. Players have the ability to look around the environment and collect hidden items with a tap — an idea that helps alleviate the lack of free movement, but still allows players to explore. The other benefit of keeping the game on-rails is that the entire experience has been cinematically designed, and there's no virtual D-pad to obscure the screen. It's a decision that developers ChAIR Entertainment (a subsidiary of Epic Games) made to make the game a better fit for touch-screen devices, and I think it was the right one.
So does Infinity Blade look like a console game? On the iPhone and iPod Touch — especially the newer models with the Retina Display — the answer is easily "hell yes." The game is downright gorgeous, and those who have said that it looks on par with some Xbox 360 games aren't far out of line. The iPad version is a slightly different story, though — my suspicion is that the two devices utilize the same texture assets, so since things have to be a bit blown up to fit the iPad screen (and you're obviously getting a bigger, more zoomed in view of the action), it doesn't look quite as amazing as the iPhone version. It's still a beautiful game, but it looks noticeably more last-gen than the iPhone iteration.
Infinity Blade is a turning point for iOS gaming. Epic has proven that Apple's popular mobile devices are capable of much more than what we've previously seen, and since they're now licensing their engine out for other developers to use, we're going to start seeing a lot of other games with with Infinity Blade's level of polish. Those games are going to have a lot to live up to though, because Infinity Blade isn't just a pretty face — it's also one of the most mechanically solid, straight-up fun iPhone games I've ever played. Nintendo and Sony beware — the next generation of handheld gaming is already here.
[Ryan Rigney is a frequent contributor to Macworld.]