The iPad's minimal design and high resolution screen make it an ideal portable portfolio for photographers. Unfortunately, the built-in Photos app offers a very limited set of tools for organizing images, including no options for sorting on the go, and no ability rate or tag images.
Sort Shots iPad Edition is a $5 photo and video organizing and viewing app that picks up where Photos leaves off. With a major new update to the app released last week in conjunction with Macworld Expo, the app now has the ability to use existing metadata and EXIF tags—a feature iPad-owning photographers have long been clamoring for.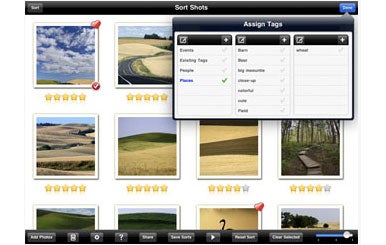 This update makes it possible to find, order, and show photos and videos according to various metadata such as keywords, date taken, and rating. The sorting tools make it easy to assemble custom slideshows New ratings, keywords, or file names that are added within the app are kept intact upon export.
Photos can be imported into the Sort Shots library though iTunes, directly from the Photos albums, or over the free Sort Shots FTP client. Once the images are in Sort Shots, you can start organizing. All metadata is imported with the image, so if you added keywords or a star rating in Aperture, that information will appear in the iPad app.
When you've come up with a combination of search terms you want to keep (for example, all photos tagged "kittens" that are rated 3 stars), you can save the it as a custom sort. For professional photographers, this is a great way to save custom portfolios of your different types of work.
An older but still extremely useful Sort Shots feature is that it's possible to drag and drop thumbnails to reorder images—a seemingly simple task that isn't possible in Photos.
The Sort Shots app works with most popular photo management applications including Lightroom, Bridge, Capture NX, Aperture, and iPhoto.