At a Glance
Expert's Rating
Pros
Larger than standard 4.7-inch screen
One Touch interface
Traffic Wake up feature
Lifetime traffic alerts
Cons
Bluetooth interface buggy and didn't work well with a Droid X phone
Keyboard input sluggish
Our Verdict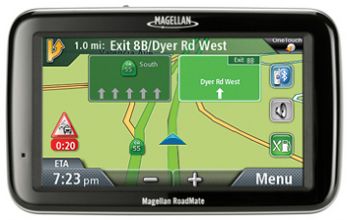 In a mature market such as that for personal navigation devices, it's difficult to come up with unique features that differentiate a new product from the competition. But Magellan has done just that with the Magellan RoadMate 3065. The RoadMate 3065 is designed specifically for business travelers and commuters.
In redesigning the RoadMate product line, Magellan decided to add live traffic updates to all of its 2000, 3000, and 5000 series of products. While you may not like the pop-up ads that are part of the deal for the free lifetime alerts, routes based on live traffic information can save you time. And though many navigators on the market have such alerts, Magellan went one step further by optimizing its traffic alerts for commuters.
What many people don't realize about "live" traffic alerts is that the traffic data is broadcast in a 20-minute cycle. So if you jump into your car and head off to work (or home), it might take up to 20 minutes before your traffic information is up-to-date. You could be in the middle of a traffic jam before your GPS device "knows" about it. To address this problem, the RoadMate 3065 has a commuter wake-up timer that allows you to wake up the traffic receiver before you leave for work in the morning and before you head home in the evening. For each day of the week, you can specify both an AM and PM wake-up time, as well as an AM and PM destination.
The 3065 can also help you keep track of mileage for business purposes. The unit logs every trip in which you use the 3065 for navigation purposes. You also have the option of tagging a trip as "business," so you can easily find the data for a given trip. The 3065 can then summarize your trips with a user-specified date range.
Beyond these two business-specific features, the RoadMate 3065 includes all of the features common to the rest of the RoadMate products. It includes a 6 million POI database and maps for the U.S., Canada, and Puerto Rico. No map updates are included with this product.
The 3065, along with the two 3055 models, also features a Bluetooth phone interface. Unfortunately, in my tests, the Bluetooth didn't work too well. When I imported contacts from my Droid X, contacts from my phone were duplicated. The 3065 also failed to auto-reconnect when I disabled Bluetooth on my phone and then re-enabled it. To make matters worse, there's no way to delete duplicates, or for that matter, all entries. You have to delete each entry one at a time.
Apart from my issues with the Bluetooth interface, I found much to recommend in the RoadMate 3065. Like all 3000 series products, the 3065 has a generous 4.7-inch screen. Features that I especially like include the built-in AAA Tourbook, highway-exit points-of-interest search, multisegment routing with route optimization, and highway-lane assist. One Touch, a feature unique to Magellan products, allows you to navigate to a stored favorite or search (the nearest Starbucks, for example) with a single screen tap.
On the road, I liked using the RoadMate 3065. It generated routes that I would normally take. But I also liked how it would generate four routes, and I could select the one that I preferred. You can individually choose to avoid a specific maneuver or road on your route, and the 3065 will recalculate. Like other Magellan RoadMates I've tested, this model has excellent POI handling. I did note, however, that the device seemed sluggish in response to keyboard input.
Macworld's buying advice
While I like the Magellan navigation experience in general, the problems with Bluetooth and the sluggish keyboard response knock the RoadMate 3065 out of contention for a spot on my dashboard. This one remains worthy of consideration only if the commuter-friendly features hold appeal.