At a Glance
Expert's Rating
Cons
Only has maps of US (50 States) plus Puerto Rico
No option to upgrade to live traffic
Our Verdict
The Mio Moov R403 offers value and solid navigation. Mio is owned by Mitac, which also owns Magellan; and at one time Mio was in the top five for GPS market share. Today, you'll find that Mio products are marketed exclusively through RadioShack, and the R403 is the leading model there.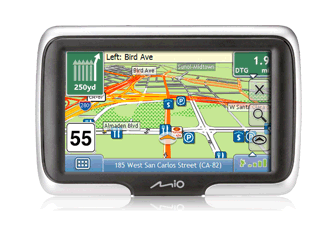 The R403 is a basic GPS navigator with a 4.3-inch screen running on Windows CE 5.0. It features TeleAtlas maps for all 50 states plus Puerto Rico, and a database with 4 million points-of-interest from Info Data.
The user interface on the R403 isn't quite as polished as what you find on competing models from the Big 3 (Garmin, Magellan, and TomTom), but with a little practice, it becomes fairly natural. A map icon in the lower left corner provides access to the main menu. This consists of three screens with "navigate to" options (My Home, Recents, Favorites, POIs, and Address) as well as a settings icon and popular POI categories. At the center-bottom of the screen, you'll see your current street address along with an estimate of the actual house number.
An icon at the lower right corner allows you to switch among a volume-control icon, a battery indicator, and a heading indicator. Above this icon, a map icon lets you toggle between 2D and 3D views. With an active route, you can also toggle to a map route summary or a list view of turn-by-turn directions. A zoom icon lets you change zoom levels. Finally, in the upper right corner you have the option to toggle between speed and current time. With an active route, your choices expand to include your choice of ETA, distance remaining, or time remaining on your trip. When the device is navigating, an X icon appears on the right side of the screen to let you cancel navigation with a single tap. These on-screen toggle icons are convenient, as you can control quite a few features without ever leaving the map view to navigate through the menu tree.
In road tests, the R403 generated good routes similar to those on TomTom devices, which are also based on TeleAtlas maps. Text-to-speech functioned properly, with "Samantha" providing directions and street names. I was a bit disappointed in the limited POI handling, though; Magellan products, for example, offer many more "search near" options.
Macworld's buying advice
If you're looking for a 4.3-inch GPS navigation device at a bargain price, the Mio Moov R403 delivers. But also be on the lookout for Magellan's RoadMate 1424 which currently has the same list price and a similar feature set. While either would be a good choice, with both having the same price, I'd give the nod to the RoadMate 1424.