Editor's Note: The following review is adapted from Five Star Apps: The Best iPhone and iPad Apps for Work and Play by Glenn Fleishman. (2010, Pearson Education and Peachpit Press).
Textie Messaging bypasses the ridiculous cost of text-messaging systems by not using them. Borange has built its own server systems that pass messages among Textie users, storing and forwarding them—cheaply for them, and no cost at all to you. In months of testing, I've found Textie to be reliable, although not quite as good as pestering you on incoming messages as iOS's built-in text messaging feature.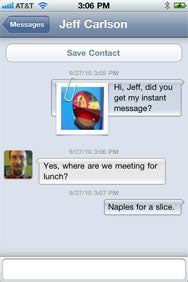 Textie is free, but sports ads in the version you install; you can pay $1.99 within the app to remove them. The program requires that you register phone numbers and e-mail addresses you want associated with your account. Your best bet for making Textie useful is to convince others you know to also register their common information.
My wife and I rely on Textie exclusively, as we have an AT&T plan that includes 200 SMS messages. Because mobile firms nicely (nice for them) meter incoming and outgoing messages, that would be a total of 100 messages between us before being charged per-message overage fees. Textie's stopped our SMS use almost entirely.
Textie allows both phone numbers and e-mail addresses to be used as the recipient's destination. When someone wants to contact you, they enter either bit of data, and if it's registered with Textie, the message uses a few bytes of a 3G cellular plan or a Wi-Fi connection to move the information over. You can also include photos, which bumps up data usage slightly, but not much. Even with a 200MB-per-month cellular data plan, heavy Textie usage will seem negligible.
With push notification enabled for Textie, incoming messages from the program pop up on screen just as with a carrier-backed text message. Textie does not have to be running. Messages are threaded by sender, too. You can exit Textie after a message is queued to send; the app uses iOS 4 background task completion to finish sending the text.
The only flaw with Textie is that as a push notification, it cannot worry you again and again to let you know about an incoming message. Apple's Messages app will trigger multiple reminders. My wife and I have both missed messages to each other because of the single notification popup; you need to pay more attention to your phone (or other device) with Textie.
Textie can send outgoing cellular text messages at no cost to you to most U.S. networks due to a quirk in how these systems connect; T-Mobile and Sprint won't accept such messages at this writing. Recipients can reply.
Carriers charge 1,000 times more than their near-nothing costs. Textie turns that imbalance around. With little fuss, you can shave dollars off your phone bill by Textie-ing with your friends.
[Glenn Fleishman is a frequent contributor to Macworld.]