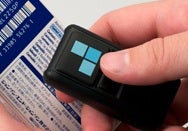 It seems like only yesterday that IntelliScanner unleashed its SOHO 150 wireless scanner for small businesses, and now it's back with a new compact SOHO Black scanner.
This scanner can be used for inventory and media organization, sporting an internal memory spacious enough for 6000 scans and a built-in rechargeable battery. Plug it in via USB and download into either IntelliScanner's included apps or popular third-party apps like FileMaker Pro, LightSpeed, and Excel.
This Class 2 scanner even offers keyboard emulation features so many other apps not directly supported should also be able to import your scans. I haven't had my hands on one yet, but from IntelliScanner's photos, I'm pretty sure I've seen car key fobs larger than the SOHO Black.
The IntelliScanner SOHO Black is available now worldwide for $299. You'll need a Mac running Mac OS X 10.5 or later, or a PC running Windows XP, Vista, or 7.
IntelliScanner SOHO Black