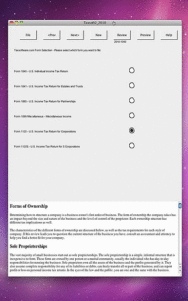 Taxsoftware.com's suite of digital tax forms is now available in a single offering on the Mac App Store.
The software was announced on Monday by the Maryland-based company, following last week's launch of of a similar app for the iPad. The desktop program includes the standard 1040 IRS form for individual filers, as well as the 2010 versions of Form 1065 for business partnerships, Form 1120 for corporations, Form 1120S for S corporations, and Form 1041 for estates and trusts. The company says its software helps users fill out those often-complicated forms in about 30 minutes.
The returns can be filed with the IRS directly from the app; there is an e-filing fee of $4 for the 1040 form and $15 for the business returns. Paid tax preparers must furnish their IRS registration numbers to use the app, and must also have a Taxsoftware.com E-services account.
Taxsoftware.com's desktop app costs $10, and is compatible with computers running OS X 10.6 or later.