Vualla wants to turn TV-watching into a more social experience. And what better program to tie in with that effort than the Super Bowl and its vast viewing audience?
On Monday, Vualla rolled out a new version of its self-titled social TV app for the iPad, with enhancements geared specifically for Sunday's Super Bowl XLV matchup between the Pittsburgh Steelers and Green Bay Packers. The new version of Vualla Social TV Companion gives iPad-toting football fans a place to chat with other people, look up info on the game, and enjoy other features aimed at enhancing the TV viewing experience.
Vualla CEO Sina Khelil bills his company's app as "a second screen to your main screen." The idea, Khelil explains, is that TV viewers want to interact when they're watching their favorite programs—chatting with other fans of a show, looking up information about an episode or an actor, and so on—but they balk at doing it on the same screen showing that program (the exact approach Google TV takes, incidentally).
"Your TV should show you what you want to watch," Khelil told Macworld. "Social TV shouldn't get in the way of that."
That's where Vualla's app—and the iPad—comes in. "We take what's on on with your TV and make it an interactive experience," Khelil said. "But on a second screen."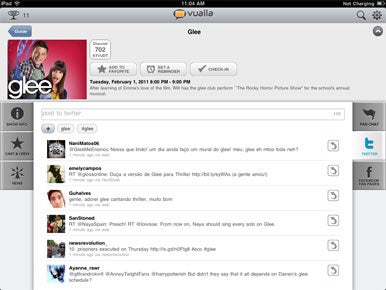 Vualla Social TV Companion includes programming information about TV shows, including the ability to set a reminder of when the show is on and check in when you're viewing the program. Show pages include programming information, such as data on the cast and crew as well as show news. Vualla's app also offers a chat room for fans of the show, aggregates Twitter posts related to the program, and links to Facebook fan pages.
The app's main page includes swipeable lists of the most viewed shows and programs that are trending (in other words, the TV shows that other Vualla users are talking about). Below that, Vualla organizes programs by genre—Series, Sports, and Movies, for example—and lets you customize which categories and channels appear on your home screen.
Vualla's efforts sound a little like what GetGlue offers for iOS devices. GetGlue has its own social networking app that lets viewers "check in" when they watch TV shows (or watch a movie, listen to music, or read a book); GetGlue users earn virtual rewards for checking in and can get personalized recommendations based on their preference. Khelil, however, feels that the Vualla app offers more social interaction with its Twitter integration and chat features. "We see GetGlue as more of a complement than a competitor," he added.
Vualla Social TV Companion made its app store debut in November; the developer later removed the app to retool it based on feedback from initial users. Monday's relaunch gives Vualla the chance to tie in its iPad offering with the Super Bowl, the first of many special events Vualla hopes to support with its app.
In addition to a clock counting down to Sunday's game, Vualla's Super Bowl page features information abut the game itself, Super Bowl history, and the venue. You can also look up information about the Steelers and Packers from within the app.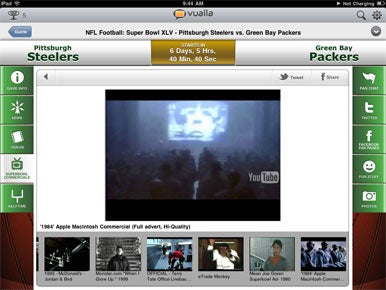 A Videos section includes highlights from both teams, the past season, and last year's Super Bowl. A Commercials sections includes YouTube videos of memorable Super Bowl ads, including one from 1984 that introduced a certain personal computer. Similarly, a Halftime section includes clips from past halftime performances as well as information about The Black Eyed Peas, who will perform at Sunday's game. (Not a fan? Vualla also lists information about alternative halftime programming for Sunday's game.) The chat, Twitter, and Facebook links found on other show pages are also included in the Super Bowl section.
"This is the type of experience we're trying to build," Khelil said of the Super Bowl-themed content in the app.
Vualla hopes to give other special events—award shows, sporting events, and the like—the Super Bowl treatment with his company's app. He also hopes to deliver some of the specialized content found in the Super Bowl section, such as polls and trivia, for popular shows like Glee and Jersey Shore.
"We want to create something that just makes it fun to watch TV," Khelil said.
Vualla Social TV Companion is a free iPad app that runs on iOS 3.2 or later.