Last week during Macworld 2011 (formerly known as Macworld Expo) I spent a portion of my time standing in front of attendees demonstrating one thing or another on an iPad. Unlike other presentations that similarly projected images from an iPad, the images from my iPad were darned near pristine. This is the story of how I did it.
First, the backstory: In years past, when Ben Long and I have presented our iPhone Supersession, we used an Elmo projector system. This is essentially a camera that points down at a white base. You place the object you want to show on the base and its image is transmitted to a projector. Because only Apple had the secret for projecting an iPhone's entire interface, mere mortals had to depend on the camera-to-projector solution, which is less than ideal because the image can be fuzzy.
This year, when planning our new iPad Supersession, I thought it would be worth exploring alternatives to the Elmo. If there was a way to hack the iPad so that it displayed the iPad's entire interface (as this was something we intended to show to our audience) via a standard projector connection rather than Elmo, we'd be ahead of the game. I discovered that alternative in the form of a jailbroken iPad. Specifically, with the help of a tethered jailbreak, Apple's $29 iPad Dock Connector to VGA Adapter, and Ryan Petrich's $2 Display Out (available through the BigBoss Repository in Cydia), our audience enjoyed a crystal-clear view of my iPad. Here are the steps:
1. Understanding the jailbreak. There are two kinds of jailbreaks—tethered and untethered. A tethered jailbreak requires that you re-jailbreak your device every time you completely power it off or restart it. With an untethered jailbreak, the jailbreak will stick even after you've restarted the device. Obviously an untethered jailbreak is preferable, but currently the untethered jailbreak for iOS 4.2.1 is in beta. I wanted a reliable jailbreak and so chose to go with the tethered method.
2. Obtain the tools. To perform the jailbreak you need a copy of redsn0w (this is a direct download link to the tool that performs the job) and a copy of your iPad's software. You might find it by following this path: youruserfolder/Library/iTunes/iPad Software Updates. If you don't, because it's been thrown away by iTunes, you can directly download it here (another direct download link).
3. Perform the jailbreak. Plug your iPad into your Mac and power it off. Launch redsn0w by double-clicking on it. In the window that appears, click the Browse button. A Browse for IPSW window will appear. Navigate to the iPad Restore.ipsw file and click the Open button.
redsn0w will go about its business of identifying the iOS software and report "IPSW Successfully Identified." After you click the Next button, redsn0w will process and patch the iOS software.
The next window asks you to select an option. "Install Cydia" is enabled by default. Leave this as the default and click Next. A warning next appears that tells you to leave the iPad powered off but plugged into your Mac. When you've granted these requests, click Next again.
In the following window you'll find instructions for putting your iPad into DFU (Device Firmware Update) mode. This involves holding the On/Off button for a few seconds, pressing the Home button while still holding the On/Off button, and then letting go of the On/Off button while continuing to hold the Home button. The window signals when to do all this.
redn0w will now jailbreak the iPad. But you're not done yet. You need to run redsn0w one more time. And yes, this means powering off the iPad while it's connected to your Mac.
Follow the same steps as you did before, except this time, when you get to the options screen, choose the Just Boot Tethered Right Now option and click Next. Again, you'll be asked to put the iPad into DFU mode and then redsn0w will complete the process.
When your iPad has booted you will see the Cydia app on your home screen. You'll use this app to obtain the Display Out hack that lets you project all of the iPad's interface. It's likely that Cydia will tell you that some of its components are out of date and offer you the option to update them. Do that. You will have to reboot your iPad, which means you have to run redsn0w yet again and choose the Just Boot Tethered Right Now option.
4. Obtaining Display Out. One of Cydia's many charms is its Cydia Store—a place where you can purchase apps not allowed by or submitted to Apple's App Store. The app that you want is Display Out.
To get it, launch Cydia and tap Manage Account. In the screen that appears choose either Connect With Facebook or Sign in With Google (depending on the kind of service you want to connect Cydia to). Once you enter either your Facebook username and password or Google username and password you'll be asked to allow a connection between Cydia and the service. When you tap Allow, you'll then be asked to link your iPad to this account. This is simply for verification purposes.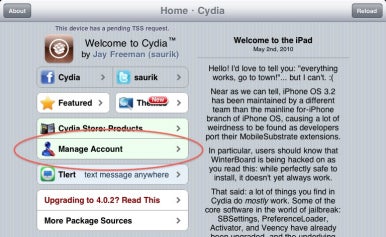 To obtain Display Out, tap the Search icon at the bottom of the Cydia screen and start typing Display Out. It will appear in the list of available apps. Tap it and a Details screen will appear that includes a Purchase Package option with the price next to the app. Tap Purchase Package and you'll see that you can purchase via your Amazon or PayPal account. Choose the option you like. You'll be prompted to enter the e-mail address and password for your Amazon or PayPal account. Do this and eventually you'll be allowed to download the app.
After you've downloaded and installed the app, you'll be told that you need to reboot your iPad. Rather than tap Reboot, press the Home button and then hold down the On/Off button to shut down the iPad.
Yes, this means you have to run redsn0w again. The reason I suggest you do this is because if you reboot from Cydia you'll find that the iPad will hang on the Apple logo during the startup process. The unjailbroken version of the iOS conflicts with Display Out, making it more difficult to reboot when tethered. When you shut down the iPad and reboot via redsn0w you don't have this problem.
5. Make the connection. You're finally ready to project your iPad. Simply attach Apple's iPad VGA adapter to your iPad's dock connector port, string a VGA cable between the adapter and your projector, and launch the Settings app. (Apple's Component and Composite AV cables work too, but the image isn't nearly as good as what you get with the VGA adapter.) At the bottom of the list of settings you'll see Display Out. Tap it and the Display Out settings appear to the right. In my experience I found that choosing 16:9 in the Aspect Adjust area worked best, but feel free to play with that setting to see what works for you. You can also use the Scale slider to make the image bigger or smaller to fit the screen. It's also worthwhile to switch on the Show Taps option. This places a dot on the screen that indicates where you've tapped.
Note that if you power off your iPad or restart it (not put it to sleep) with Display Out installed, there's a very good chance that the iPad will stall at the Apple logo when it attempts to boot up. In this case you'll need to tether it to your Mac and run redsn0w again—yes, even though you can't shut it completely down—and choose the Just Boot Tethered Right Now option.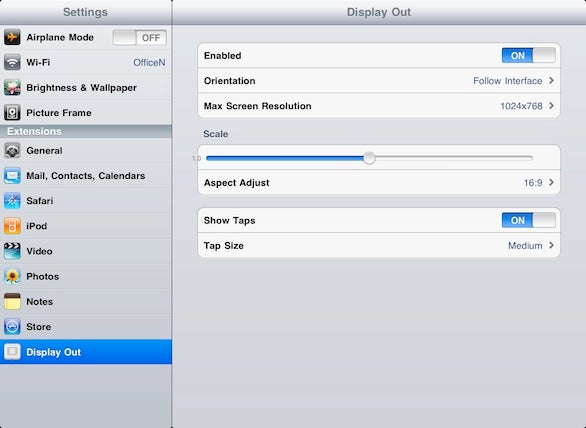 Whew…. What a pain, right? Honestly, it's not as bad as it sounds although it's tiresome that you can't turn off or reboot your iPad without losing the jailbreak. In a perfect world Apple would provide the capability to display an iOS device's entire interface. Doing so would make a lot of teachers, technicians, and presenters happy. And, of course, we'll all celebrate the day when an untethered jailbreak is fully baked. Until that day, this is the way to offer more perfect iPad presentations to your audience.