Two different iPad cooking apps looking to whet the appetites of home cooks got sneak previews during last week's Macworld 2011 trade event in San Francisco. And attendees didn't have to wander too far to see a demo of both—Expo organizers placed the booths showcasing iCookbook and Appetites back to back. It turned out to be an appropriate choice, as the apps—which are both slated for February releases—approach things from entirely different directions.
iCookbook comes from Publications International, which publishes, among other things, a wide array of cookbooks. The iPad app—which Russ Whitman of Publications International described to me as "our take on what a cookbook should be"—draws heavily on that publishing background. The app will ship with 2,000 recipes culled from those cookbook offerings. Users will be able to enter their own recipes, and iCookbook will offer a free collection of recipes for download each month; other recipes will be available via in-app purchase.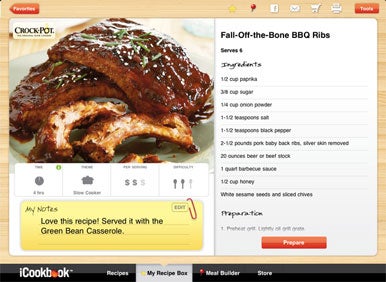 iCookbook will display a large photo of the finished dish with each recipe, with the recipe itself appearing in a scrollable pane. You can use AirPrint to print out recipes and ingredient lists; the app also lets you share recipes with friends.
I found the preparation features to be iCookbook's most impressive capabilities during a brief demo on the Expo showfloor. The app breaks up recipes into steps with large text that should be visible even when your iPad is safely away from your stovetop. More significant, the app supports voice commands for scrolling back and forth between steps, saving you from having to swipe your iPad screen with messy hands.
Publications International says iCookbook will arrive in three weeks. It's expected to be a $5 download from the App Store.
Just a few feet away on the Expo floor, the makers of Appetites were outlining a different take on cooking apps for the iPad. The emphasis with this app will be on videos, with the content coming from food bloggers. Appetites will feature a half-dozen bloggers when the app debuts.
"We chose food bloggers because they're down to earth," an Appetites rep told me on the Expo showfloor. "They love to cook and love to cook for people."
Tapping an individual blogger will launch a video where they talk about their background. Tapping a recipe on a blogger's page brings up a series of instructional videos about that recipe, starting with the ingredients. (You're able to e-mail an ingredients list to your mobile phone from within Appetites.) You swipe from one video instruction to the next, with the idea that you're cooking along with the food bloggers as they show you how to make a particular dish.
Appetites representatives told me that the app is slated for a mid-February release. The app will cost $5 and you can go to a Web page to sign up to be notified when Appetites arrives on the App Store.