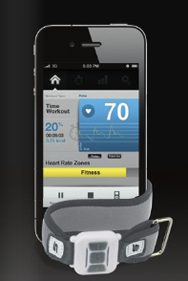 While there were plenty of cases and gadgets available for iOS devices at this year's Macworld 2011, Scosche's myTrek Bluetooth pulse monitor caught our eye—and along with it, a 2011 Best of Show award.
The device, which Scosche plans to make available sometime this summer for $149, syncs with the company's free myTrek app for pulse monitoring, workout customization, and fitness tracking. To use the myTrek, you simply strap it to your forearm using the Velcro band and power it on to establish the Bluetooth connection. When you open the app, the device will begin transmitting your pulse and calibrating with the app.
You can tailor your workout regimen by setting your sex, age, weight, and resting heart rate within the myTrek app, and create custom regimen stages based on your planned activity (running, cycling, hiking). You can also choose a designated audio prompt (male or female) to alert you when you switch routines, or tell you whether you need to speed up, slow down, or stop to achieve your desired workout.
When you launch the app, it will display an active graph of your resting pulse rate, along with your current workout mode. By default, you start out in Free Training; as you advance through your workout, a bar along the bottom of the screen will slowly fill up and then automatically move you to the next stage.
While working out, you can select songs from and control your music library in the app or by using the armband. The buttons on the pulse monitor allow you to skip songs, play/pause, and control the volume of your device.
Once you've finished a workout, you can see your progress—along with the calories you've burned and your total time—as a bar graph. All past workout data is all saved within the app, so you can reference it at any time.
All in all, the demonstration I saw on the show floor was short, but impressive (very similar to this demonstration captured on video by Notebooks.com). If nothing else, it was nice to see a non-headphone, non-keyboard iOS Bluetooth accessory on the show floor. Sadly, I didn't get a chance to check out Scosche's other Bluetooth product previewed at the show, the FreedomMIC, a wireless lavalier microphone for the iPhone, iPod touch, and Flip camera. You can read more about the myTrek or the FreedomMIC in Scosche's consumer catalogue.