When new parents leave the hospital, they're charged with keeping track of two infant metrics: How often the new baby is feeding, and how often the new baby requires diaper changes. Total Baby is an excellent tool for doing both—and tracking any other baby miscellanea a parent wishes to define.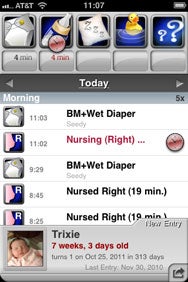 This application meets the baseline criteria for any new parent: It can be operated using only one hand by someone who's operating on approximately 90 minutes of sleep per night. But it's the thoughtful design touches that make ANDESigned's $5 app truly useful.
Tracking feedings is where the "pound the phone with one hand in the middle of the night" feature really shines. Anyone who's nursing can easily tap a button labeled "L" or "R" at the start of a nursing session, then tap it again once they're done. And for bottle-feeders, there's the option to log how many ounces the baby took, and at what time.
One of the things new parents are told to do is monitor the color and consistency of their children's output, and this application has two handy scrolling options that let you select adjectives and colors for what's currently in the diaper. (Sadly "nightmarish" isn't an option—perhaps in a future release.)
Total Baby also lets users document how often and how long their children sleep, and there are options to set up and track user-defined events, such as play time and how long you put your infant on its stomach. There's also a way to enter doctors' appointments, and reminders pop up on the day of the event.
Backing up and exporting data is ridiculously easy. Users can e-mail backup files to themselves, use a Web browser on their computer to download a backup file via a dedicated Web server address, or sync their files via local Wi-Fi.
Finally, Total Baby isn't just a tool for parents wrangling only one baby—there are options for tracking multiple children, with each child assigned a different color for its entries.
The only criticism one can level at Total Baby is that the timer function really drains the phone battery, so anyone who's spending hours sitting in a glider with a fussy infant had better be sure they've got a power source nearby. Otherwise, Total Baby is a valuable tool for parents as they're learning their new children's rhythms and preferences.
[Lisa Schmeiser is a writer based in the San Francisco Bay Area.]