Ancestry.com's iPhone app—which lets you carry your family tree around in your pocket—has been updated with new features that include iPad optimization.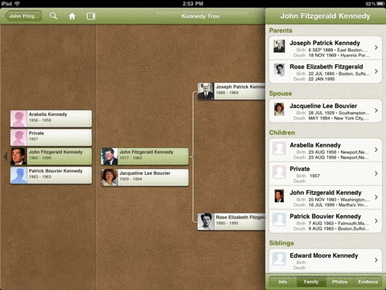 The company's newly universal app, Ancestry 2.0, debuted Monday. In addition to its revamping for the iPad, the app features a new interactive family tree viewer to help users visualize family relationships, as well as the ability to view supporting historical documents.
The app does require an Ancestry.com account to work. The site offers a 14-day free trial, but memberships can cost $89 for six months of access to the site. The fees pay for access to more than century's worth of Census, immigration, Social Security, and military records data that help users piece together the puzzles of their family history.
The Ancestry app itself is free and compatible with any device running iOS 3.1 or later.