Back in the August 2007 print issue of Macworld, I reviewed Caffeine, a nifty utility for preventing your Mac from automatically dimming its screen (or starting a screen saver or going to sleep) if you aren't using the cursor or keyboard. Caffeine is useful when you're watching a movie or online video, giving a presentation, or looking at a complex document: Instead of having to go to the Energy Saver pane of System Preferences to turn off all screen-dimming, screen-saver, and sleep options, you just click Caffeine's systemwide menu-bar icon to activate a "sleepless" state; when you want to revert your Mac to its normal state, you just click the icon again. (Caffeine's icon is a full cup of coffee when active, and an empty cup when inactive.) Your normal Energy Saver settings never change, but your Mac stays wide awake whenever you need it to.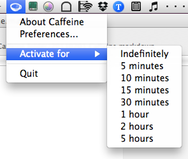 Since my original review, Caffeine has received a few notable updates, and it's now available—and still free—both directly from the developer and on the Mac App Store.
Perhaps the biggest change since my first review is that Caffeine now works properly with Snow Leopard. But the developer has also added options for timed use: By default, clicking Caffeine's menu-bar icon toggles the "caffeinated" state on and off, but if you right-click (Control-click) the icon, you can activate Caffeine's no-sleep feature for a set amount of time—5, 10, 15, or 30 minutes, or 1, 2, or 5 hours—after which your Mac automatically returns to its normal Energy Saver behavior. If you use one of these durations regularly, you can change the default behavior so that clicking Caffeine's icon activates it for that specific duration. Finally, Caffeine can now be controlled via AppleScript.
One complaint I've heard from users is that Caffeine does not prevent a Mac laptop from going to sleep if you close it—for example, if you connect your MacBook to an external display and then close the laptop, hoping to use the laptop with the lid closed. According to the developer, Caffeine simply isn't designed to prevent sleep in this situation. (Once you wake your MacBook, however, Caffeine will keep the connected display from dimming or sleeping.)
Because I normally use Caffeine when doing things that require focus—for example, giving a presentation or watching a video—I'd love to see an option to disable other potential distractions, such as system sounds and notifications. But that's probably beyond the scope of Caffeine. For what it's designed to do, Caffeine works exceptionally well and is simple to use.
(Note: Our 2007 review claimed to cover version 1.1 of Caffeine. We apparently made an error with the version number, which should have been 1.0. There have been a good number of updates to Caffeine since that time, and the program is now at version 1.1.1.)
Updated 2/1/2011, 1:25pm: Clarified closed-laptop sleep behavior; updated version info.
Want to stay up to date with the latest Gems? Sign up for the Mac Gems newsletter for a weekly e-mail summary of Gems reviews sent directly to your Inbox. You can also follow Mac Gems on Twitter.