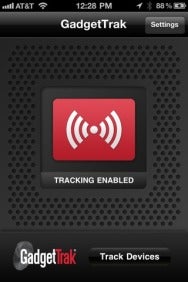 ActiveTrak has released an updated version of its GadgetTrak anti-theft app for iOS. Like previous versions of the app, version 2.5 helps you recover your iPhone, iPad, or iPod touch if it gets stolen. You install the app on the device and register the hardware on the GadgetTrak Website. Then, if your phone or tablet is stolen, you notify the site, and the service begins to track the device.
The updated app adds a couple of new features. It now supports cameras; if you have an iPhone 4, it'll use both front- and back-facing cameras, so you can take a picture of the perp as well as his surroundings. It uses push notifications, so you can send the miscreant a message. And you can set up an e-mail account to which all of the tracking details will be sent. The app's settings are password-protected; even if the jerk who stole your phone gets that password, he can't turn off tracking unless he can also log into your account on the GadgetTrack Web site.
GadgetTrak 2.5 costs $4 regularly; for a limited time, ActiveTrak is selling it for $1. It requires iOS 4.0 or later.